Located in Montana just north of the Idaho border and just off Highways 87 and 287 are three lakes. Three lakes surrounded by the innate beauty of the national forest and snow peaked mountains. Three lakes that always seem to be given less than full merit by most fishermen in favor of the more famous fishing tributaries (Henry's, Island Park and Yellowstone Lake) in the area.
Hebgen Lake neighboring the National Forest and surrounded by a panoramic vista of mountains and beautiful pines.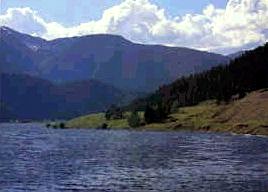 There are even some guides that boast that one of those lakes is the finest dry fly lake in North America. There is little doubt these three lakes provide some terrific fishing opportunities for the fly fisherman and non fly fisherman. The three lakes are Cliff, Wade and Hebgen. These Montana lakes produce some pretty good sized pigs. What makes these lakes extraordinary is not the size or quantity, but simply for as consistent as these lakes fish, it's hard to believe that when your fishing these lakes many times you may only see six or seven fishing enthusiasts on the lake the entire day.
Frank Adams of Idaho Falls sporting a 12oz. beverage. The monster brown just happened to get in the picture.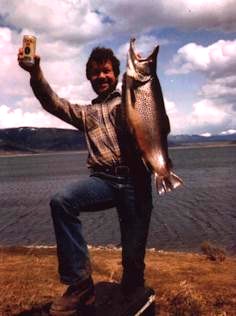 The first of the three lakes is Hebgen. It is located about 20 minutes west of West Yellowstone and is very accessible. It is also the lake that some guides believe is the finest dry fly lake in North America. Hebgen has a healthy population of browns, cutthroats and rainbows. Fly fishing can be productive whether you use wet or dry flies. Hebgen offers two distinctive hatches. The first being the Chironomid hatch with happens early season and continues on through June.
The second hatch gets going in early July with Trico and Callibaetis mayflies. The hatch continues through August and at time extends in to September. The Madison and South fork arms are a favorite amongst fly fisherman. Both are on the eastern section of Hebgen where the Madison River feeds into. Fly fishing the Hebgen arms is probably best done on a skiff or canoe. The fish move often and cover large areas. Though popular, fisherman using float tubes often find it just a little too labor intensive to keep up with moving schools of fish. The fish along the arms range 14 to 18 inches with some into the 20 inch category. For the non-fly fisherman Hebgen is just as productive. There are lots of 20 plus inch rainbows caught from trolling boats. The few boats you will see normally troll with artificial lures like rapalas, flatfish, blue foxes, panther martins. Fishermen also have good success using jigs. Hebgen is rather convenient for boats too. Within 10 -15 minutes you can be launched and ready for fishing.
Hard to believe someone would abandon a home with such a magnificent view. This view can be seen on the way to Cliff and Wade Lake.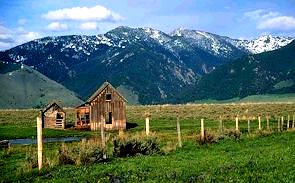 The other two lakes are Wade Lake and Cliff Lake and are located on the Beaverhead National Forest and are part of the Hidden Lake Chain of lakes. Getting to Wade and Cliff lake can be very difficult coming from Hebgen. But its not because the roads, its because the Madison River runs along the highway. Seeing the Madison River can be quite tempting for any fishing enthusiasts.
Both Wade Lake and Cliff Lake settings are spectacular. With aspens, firs and pines trees next to the lakes. In autumn the foliage changes to vivid reds, orange and yellows. Both Wade Lake and Cliff Lake are restricted by "no wake" speed limits. Trout can be seen cruising in the still water, feasting on various insects. Fishing the lakes requires nothing special. Typically you'll see flyfishing, spincasting and trolling. Fishing from boats, canoes and float tubes are the most successful methods on the lakes. Wade lake has earned a reputation for large Rainbows and German Brown trout. Wade lake still holds the Montana State record brown trout at 29 pounds.
Montana's Wade Lake.
Since then there have several huge contenders within Wade Lake itself that have challenged the states' big pig title. The closest a half of pound shy. Cliff Lake is no slouch either. Cliff Lake held the Montana record for a Rainbow at twenty pounds and held it for over thirty years. For the non fisherman, the lakes also provide a great opportunity to capture wildlife on video or camera. Wildlife such as moose, deer, elk, eagles, whopping cranes and many other types of water fowl.
Note: In 1992 Montana Fisheries created and artificial spawning channel for browns and rainbows. It eliminated most fish stocking of Wade Lake which first started in 1930.
Species: Rainbow, Cutthroat, Browns
Hatches: Caddis, Stoneflies, Leadwing Olive, Gray Drake, Brown Drake, Green Drake, Pale Morning Duns,Chironomid
Tackle & Gear: For most fly fishing an eight to nine foot, four or five-weight rod is a good choice.
Season: Lakes in Montana are generally opened all year. There are some special restrictions in some areas. Check your Montana Fishing Regulations for restrictions.