The Rio Grande Box above the confluence of the Red River is especially good in fall for rainbows and browns to 20 inches, some bigger. Can involve tiring hikes and difficult fishing. Local guides can aid anglers with no experience, especially for The Box. It is advisable when hiking into the Box to carry plenty of water as the trails along the canyon in the summer can easily reach 100 degrees. About 20 miles southwest of Taos on N.M. 68, there is easy access to the Rio Grande. Take N.M. 570 north out of Pilar for six miles of usually good fly- and bait fishing for rainbows and browns, some northern pike.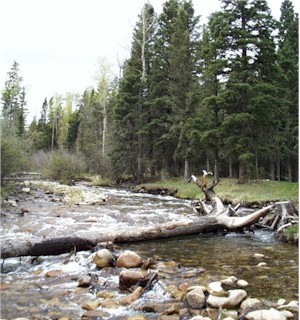 The Rio Hondo, is about 10 miles north of Taos. The lower section of the Hondo is easily accessible just before its confluence with the Rio Grande. The upper Hondo runs much faster. Good holes in this section are often hindered with brush along the stream's banks. Fishing the upper section yields descent sized cutbows and browns.
If you're looking for easy access to solitude, try the Rio Chiquito (Little Rio Grande) watershed. About 50 miles of some of these streams are only 5 - 10' wide. Seclusion here absorbs the cursing that comes from the twin sport of trying to catch spooky little trout and fighting attacking brush. Happily, some open areas and beaver ponds keep anglers quiet.
The Rio Pueblo is a good sized creek in a rugged canyon. The river flows northwest and oxbows HWY 518 for several miles. There are plenty of good holding areas with some reasonable sized browns in the Rio Pueblo, but access can be quite difficult and casting line can be challenging where the canyon is rugged. However that is of little consequences because to say the least this section of the river the scenery is stunning. The lower section flattens out quite a bit and does see a lot pressure during the summer months.
Tackle & Gear:
For most fishing on the smaller rivers, an eight foot, two or three-weight rod is a good choice. The main Rio Grande a four to six-weight system would be good choice, keeping in mind that there are some large northern pikes and some good sized browns. Good insulated waders are advisable through June.