Eleven Mile Reservoir: is located at an elevation of 8,600 feet in the southeastern corner of South Park, a large natural mountain park in central Colorado. The 3,400 acre reservoir is stocked with kokanee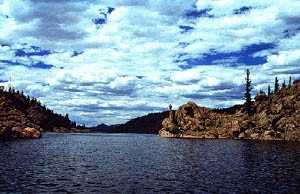 salmon and cutthroat and rainbow trout. Northern pike are plentiful and carp abound in the shallow bays and inlets, providing great bow-fishing opportunities. Trout fishing normally slows in late summer, but picks up again in late September to early October. Power Bait (rainbow, pink or green) works best in the fall. Snagging kokanee salmon is permitted east of the inlet buoy line from Oct. 1 to Dec. 31. The reservoir typically freezes in mid to late December and ice fishing is great in January and February. Ice fishing shelters must be portable. For kokanee use orange-striped Swedish pimples with mealworms; for pike use sucker meat. Trout under the ice will bite on a variety of small lures tipped with mealworms. Fishing tournaments are held periodically throughout the year.

Restrictions: Fishing is prohibited in the restricted area near the dam but is permitted everywhere else. Fishing restrictions at Eleven Mile Reservoir include: Trout daily bag/possession limit is four fish, of which no more than two can be 16 inches or longer. Northern pike has no bag/possession limit. Kokanee salmon daily bag/possession is 10 fish at all times of the year. Kokanee salmon snagging is permitted east of inlet buoy line, Oct. 1 - Dec. 31. A total of 10 salmon may be snagged. Ice-fishing shelters must be portable. Fishing guides and outfitters who use the park for commercially guided fishing or recreation activities are required to purchase a special-use permit. Please contact the park office for more details at (719) 748-3401. Please check the current Division of Wildlife fishing regulations brochure for a complete list of all fishing regulations.

Location: The reservoir lies on the South Platte River between Highways 24 and 9. To reach the park, travel 38 miles west of Colorado Springs on U.S. 24 to one mile west of the town of Lake George, then turn left (south) on County Road 90 and drive for six miles to County Road 92. Continue south on 92 for five miles to the park.