Campsite Reservations
Xanterra Parks & Resorts operates campgrounds at Bridge Bay, Canyon, Fishing Bridge RV Park, Grant Village, and Madison. Same-day reservations can be made by calling: 307-344-7901. Future reservations can be made by calling: 307-344-7311, or by writing: Yellowstone National Park Lodges,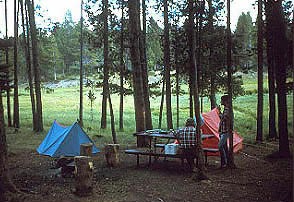 PO Box 165, Yellowstone National Park, WY 82190. Fishing Bridge RV Park is the only campground offering water, sewer, and electrical hookups, and it is for hard-sided vehicles only (no tents or tent-trailers are allowed).
Please make your reservations early and/or plan to secure your campsite as early in the day as possible. Campgrounds may fill by early morning, especially during peak season (early July - late August).
It is recommended that recreational vehicles over 30' make reservation since there are limited number of campsites over 30' available in Yellowstone. Large RV sites are located at Flag Ranch, Fishing Bridge RV Park and West Yellowstone.
First Come, First Served Campsites
There are 12 campgrounds in Yellowstone National Park. Seven of these campgrounds are operated by the National Park Service at Indian Creek, Lewis Lake, Mammoth, Norris, Pebble Creek, Slough Creek, and Tower Fall. Sites at these campgrounds are available on a first-come, first-served basis.
Campfires
Wood and charcoal fires are permitted only in locations with fire grates. Special fire restrictions are occasionally put in place when the danger of wildland fires is great. If you plan to light a fire in the park, please ask about current fire restrictions at the entrance station when you arrive or email our Visitor Services Office immediately prior to your visit.
Click on a campground name to view a map of its location.
Campground
Sites
Dates
Fee
Elev (ft)
Toilet
Showers &
Laundry nearby
for a Fee
Dump Station
Generators Permitted (8AM - 8 PM)
Bridge Bay*
430
5/23-9/14
$17**
7,800
Flush
X
X
Canyon*
272
6/6-9/7
$17**
8,000
Flush
X
X
X
Fishing Bridge RV*
344
5/16-9/28
$31**+
7,800
Flush
X
Sewer
X
Grant*
425
6/21-9/28
$17**
7,800
Flush
X
X
X
Indian Creek
75
6/6-9/15
$10
7,300
Vault
Lewis Lake
85
6/6-11/2
$10
7,800
Vault
Madison*
277
5/2-10/26
$17**
6,800
Flush
X
X
Mammoth
85
All Year
$12
6,200
Flush
X
Norris
116
5/16-9/29
$12
7,500
Flush
X
Pebble Creek
32
5/30-9/29
$10
6,900
Vault
Slough Creek
29
5/23-10/31
$10
6,250
Vault
Tower Fall
32
5/16-9/29
$10
6,600
Vault
* Reserve through Xanterra Parks & Resorts - call: 307-344-7311 or TDD: 307-344-5395 - Online reservations are not available at this time.
**Plus sales tax
+ 1-4 people
Dates are approximate and may change because of weather or resource management concerns.
Bridge Bay, Canyon, Grant Village, and Madison campgrounds all contain accessible sites.
Following the fires of 1988, thousands of dead trees, known as snags, were left standing in Yellowstone. These snags may fall with very little warning, so please be cautious and alert for falling snags in campsites.
Biker / Hiker Campsites
Camping for bicyclists is limited to the developed campgrounds located throughout the park. Campsites are available by reservation (through Xanterra Parks and Resorts) and on a first come, first served basis.
The distances separating campgrounds and the fact that the campgrounds typically fill early each day during the peak visitation season will pose logistical problems for the bicycle camper in Yellowstone. A limited number of campsites are reserved for hikers and bicyclists at all campgrounds with the exception of Slough Creek. Camping is not available at Old Faithful. If you are traveling with a group of bicyclists, call Xanterra Parks and Resorts prior to your arrival to check on group campsite availability; not all campgrounds can accommodate groups. If you have access to a vehicle, use it to find a campsite in your destination campground early each day.
Bicyclists camping without a vehicle can use designated hiker/biker sites for $ 4.00 per individual per night. All other vehicle campsites range from $ 10 to $ 16 per night depending on the campground. Opening and closing dates vary considerably for each campground. Check the table above to make sure that a campground is open if you are planning a spring or fall visit to Yellowstone.
Camping Rules
Camping or overnight vehicle parking in pullouts, picnic areas, picnic grounds, or any place other than a designated campground are not permitted and there are no overflow camping facilities. However, camping is often available in neighboring communities and forests outside the park.
Camping is limited to 14 days between June 15 and September 15 and to 30 days the rest of the year. There is no limit at Fishing Bridge RV Park. Check-out time for all campgrounds is 10:00 AM.
Quiet Hours
Camping in Yellowstone is a special experience. Each visitor deserves the opportunity to hear the birds, wildlife, and streams in this beautiful environment. Respect the rights of other campers and comply with the law by adhering to quiet hours, 8:00 PM to 8:00 AM (10:00 PM to 7:00 AM at Fishing Bridge RV Park). No generators, or other noise disturbances will be allowed during this time. Generators are only permitted in six campgrounds and the Fishing Bridge RV Park (see the table above for details).
Golden Age / Golden Access Discounts
Holders of Golden Age and Golden Access permits will be given approximately 50% discounts on camping fees. This does not apply at Fishing Bridge RV Park.
Group Camping
Group camping areas are available at Madison, Grant, and Bridge Bay campgrounds from late May through the closing date for large organized groups with a designated leader such as youth groups or educational groups. The fees range from $45-$75 per night, depending on the size of the group. Advance reservations are required and can be made by writing:
Yellowstone National Park Lodges
PO Box 165
Yellowstone National Park, WY 82190 or by calling: 307-344-7311.
Since food and odors attract bears, items such as cooking stoves, utensils, coolers, trash bags, food, and toiletries may not be left outside or in tents or tent trailers, unless they are in immediate use!