Panguitch Lake is located in south central Utah and sits at an elevation of 8,400 feet and is adjacent to Scenic Highway 143 between the towns of Panguitch and Brian Head, Utah. The word "Panguitch" comes from the local native American Indians and means "Big Fish". The Lake has approximately 10 miles of shoreline and is ideal for year-round fishing. In the summer you find excellent fishing for some of the largest rainbow trout in Utah. In the winter the lake is easily accessible.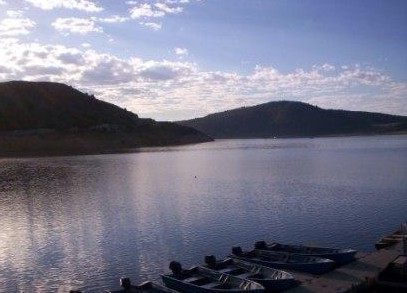 PANGUITCH CREEK, Garfield County. Panguitch Creek originates at the outflow from Panguitch Lake and extends downstream to the town of Panguitch where it enters the Sevier River. The stream follows along Highway 143 for several miles below Panguitch Lake, and flows through both private land and portions of the Dixie National Forest. The area along the highway is stocked with hatchery rainbow trout. Further downstream, it leaves the highway and flows through a road less canyon for about 5 miles, mostly on National Forest lands. The lower reach supports a population of wild brown trout.
BLUE SPRINGS CREEK, Iron and Garfield Counties. This stream is the primary tributary to Panguitch Lake. A 1.5-mile section on National Forest land can be accessed by a dirt road off of Highway 143, about 2 miles south of Panguitch Lake. The upper portion of Blue Springs Creek, as well as the lower sections of tributary streams (Deer Creek and Bunker Creek) lie on private land. The upper reaches on the National Forest, can be reached by continuing up the lower Blue Springs Creek access road. Brook trout are the predominant fish found in all of these streams.
Location: 20 miles south of Panguitch on Route 143 on the Markagunt Plateau