Ten miles up the Applegate River from the Star Ranger Station ( Applegate Ranger District office) is the Applegate Dam and 988 acre, Applegate Lake. Construction was begun by the Army Corps of Engineers in 1976 and completed in 1980. It is the second of three multi-purpose water resource projects authorized for the Rogue Basin.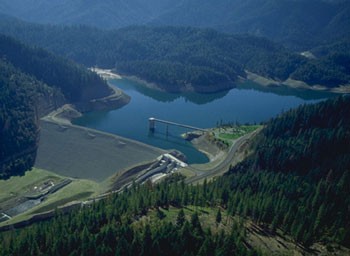 The reservoir provides irrigation and flood protection for the lower Applegate Valley and enhances the fishery through maintaining higher and cooler water levels in the lower river. The lake is over 200 feet deep in the main section by the dam when it is at full pool. Applegate Lake extends to the California border and a hiking trail follows the 18 mile shoreline. The Forest Service is responsible for the maintenance of the 10 campgrounds, viewpoints, and trail system around the lake. Hart-Tish park, primarily a day use facility with limited camping, is one of the few Forest Service parks with several acres of beautifully groomed lawn sloping down to the water's edge. From Hart-Tish one can look south across the lake to the peaks of the majestic Red Butte Wilderness.

Seven miles up Squaw Creek Road, a predominantly gravel road across the Applegate Dam, lie Squaw Lakes. Squaw Lake, the larger of the two lakes, covers 48 acres and is 110 feet deep. Little Squaw Lake covers 20 acres and is 52 feet deep. The larger lake has a dam and outlet owned and operated by the Squaw Creek Improvement District, a small group of landowners. Both lakes are popular camping and fishing lakes. One might expect to catch crappie, catfish, bass and rainbow or cutthroat trout.

Boat access to Latgawa Cove, Harr Point and Tipsu Tyee campgrounds is affected by lake level. Below 1960 feet slippery footing and a long walk up the shoreline make boat-in unappealing to most users.