Georgetown Lake is a large; 3,000 acre mountain lake at an altitude just over 6,000 feet. To get there one must take the 53-mile Pintler Scenic Byway. The Byway is alternate to Interstate 90 between Anaconda and Drummond, Montana and is breathtaking. The Pintler Scenic Byway is along Highway 1, that takes visitors from Anaconda past Georgetown Lake,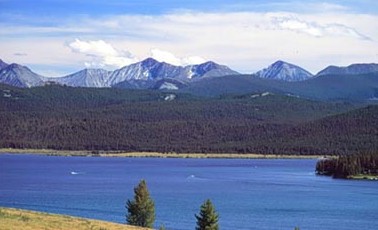 three ghost towns, a waterfall, rock hound areas, and a sapphire mine. The lake is surrounded by the Flint Creek Range to the north and the Pintlers to the south. At Georgetown Lake Kokanee salmon is the most sought after species, followed by rainbow trout. Fall however provides some excellent fishing for large brook trout. Georgetown Lake has four public boat ramps. In winter, Georgetown Lake is used for ice fishing and snowmobiling. Access to lodging, restaurants, casinos and a marina. Camping is also available around the Lake at a number of National Forest campgrounds.

Access is easy to Georgetown Lake; from Montana Highway 1(Pintler Scenic Byway) following the lake on one side. There are many dirt roads that follows the lake on the other sides.

Fishing Flint Creek: The Creek begins at Georgetown Lake, and flows through the middle of the beautiful Phillipsburg Valley until it meets with the Clark Fork near I90.

Flint Creek flows primarily through private land, and at times will run fairly close to the Pintler Scenic Byway. Roads from the highway that cross the creek are pretty much the only access available. The creek does provide a excellent trout habitat, as there are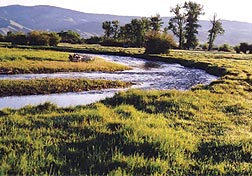 many undercuts and some nice runs. The banks of the creek will vary, but most of the creek's banks consist of grass anywhere from 6 inches to 2 or 3 feet depending on the season. Fly-fishing enthusiast will enjoy the fine touch require to fish the narrow waters. The fish tend to be on the short side of 12 inches on average and spook easily. Larger browns and rainbows can be found closer to the lake.
Floating Flint Creek is possible during runoff, but can be very labor intensive due to oxbowing characteristics of the creek, and the several fences that cross the creek.
The best time to fish Flint Creek is late spring, early summer and autumn. Depending on summer temps, fishing can be very slow in late July and August. Fishing pressure is normally quite light through out the year. The hatches consistently match well with Rock Creek.
Species: Rainbow, Cutthroat, Brown, White Fish
Hatches:

Tackle & Gear: For most fishing on the Flint Creek any short fly rod, two or three -weight is a good choice. Hip waders
---