The Blackfoot River, one of twelve renowned "Blue Ribbon" rivers in Montana and a major tributary of the Clark Fork of the Columbia River, begins at the junction of Beartrap and Anaconda creeks near the Continental Divide.
The river flows west 132 miles to its mouth at Bonner, Montana. From its headwaters to Mineral Hill near the junction of MT 200 and MT 141, the Blackfoot drops through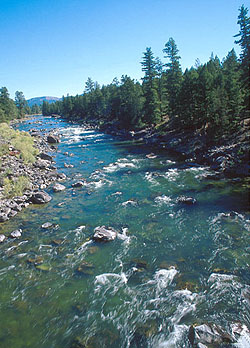 glaciated high-alpine meadows and runs between steep, forested slopes. Above Lincoln, Montana, the river almost annually goes underground. Below Lincoln it reappears and meanders through conifer forests and wetlands to Nevada Creek. About 4 miles downstream the river falls sharply toward the North Fork of the Blackfoot, and cover becomes in-stream rocks and boulders, bank grasses and brush. For its remaining 52 miles, the Blackfoot levels out, and moves through open ranch and timbered areas. It steepens again from the Roundup Fishing Access Site to Johnsrud Park, 13 miles from the mouth, passing mostly through a timbered and somewhat narrow canyon with high walls. From the North Fork downstream, the Blackfoot lends itself gradually to floating, swimming, and wading. A free flowing river, the Blackfoot is affected by Milltown Dam, which has blocked fish passage on the Clark Fork River since 1907.
The Blackfoot River Trout Restoration Initiative focuses on the recovery of native fish species, and depends on cooperating agencies, watershed groups, and landowners to protect the river's many resources and uses.
Fishing the Blackfoot: The Blackfoot is an excellent fishery for rainbow, cutbows, browns and mountain whitefish throughout its length. Good fishing on the Blackfoot fishing starts around the River Junction Campground, at its confluence with the North Fork, just south of Ovando.
The Blackfoot hatches consist of Skwala Stoneflies, Salmonflies, Golden Stones, Baetis, March Browns, Caddis, Green Drakes, Midges, Pale Morning Duns and Hoppers.

Total Length: 132 miles