By Paul Bruun

Despite advances in drift boat materials, technology and equipment, there's always something new with which to antagonize river rocks. And on a recent Sunday I got to row and fish just such a product around the twistiest portion of the Snake I could find. The results were surprising.

Although currently based in Steamboat Springs, Colo., Hog Island Boat Works was conceived from a love of Jackson's own river and the colorful inhabited area below Munger Mountain to the Hoback by the same name.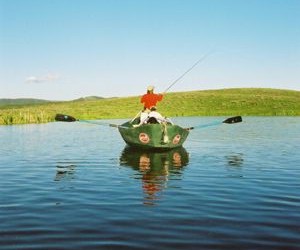 John St. John and his longtime friend David McGuire shared area whitewater rafting and fishing work stations between Snake River Park and Mill Iron Ranch for many seasons. Several years ago John discovered the versatility and resiliency of rotationally molded polyethylene fabrication. Stimulated by memories of Snake River drift fishing, his business senses came alive.
The idea matured dramatically to the present 16-foot drift boat I bumped, twisted, spun and bounced between Wilson and South Park. Ironically, that's where Hog Island finally lost its official island status when WYDOT tired of road-covering landslides and connected it via a major highway bridge to the Jackson mainland. I enjoyed blending past with present and realized that technology can make a big difference.
Ages ago the horrible riding but extremely sturdy Boston Whaler outboard runabout introduced the boat-buying public to fiberglass and foam sandwich hull construction. Boston Whaler touted its 13-foot, tender-sized boat as unsinkable even when sawed in half! Ad photos of the "half boat" still afloat sold millions of Whalers despite its hefty weight and vertebrae-crunching ride.
Plastic drift boat builders, myself included, have regularly toyed with sandwich hull and gunwale construction both for durability and strength. Additions of treated balsa wood as well as layers of various foam thicknesses serve both as partial or full stringers to stiffen bottoms, sides and transoms.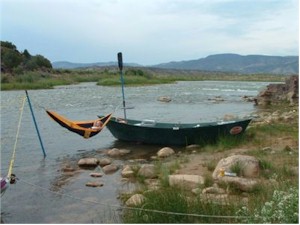 Enclosing foam between a top and bottom layer of fiberglass cloth and resin makes for a strong structure, but the project is time consuming and costly.
What John St. John discovered is that rotational (roto) molding is a quicker and stronger process that begins with an "outer skin" of high-density polyethylene. Inside this skin is injected polyethylene foam pellets which when heated and the entire boat rotated, create a thick and rigid foam core that bonds to the skin. St. John was already investigating rotomolding in a Monroe, La., location, when he learned that a plant in Stockton, Calif., designed and built a number of durable boats for a rigorous new Disney theme park ride.
Even the greatest boat theories don't translate magically to the water without extensive design and trial and error. In this respect, St. John and his associate McGuire were lucky. They obtained the services of a veteran powerboat marine engineer who designed a 16-foot hull with an extended bottom rocker but relatively low sides (21 inches) and a sanitary interior. The round radius chine provides quick maneuverability but will slide more easily over rocks than a move severe edge.
Despite a shiny strong pair of nine-foot Cataract Composites with magnum blades, I was a little skeptical about snapping the estimated 400-pound drifter through a snag filled, nine-mile fishing gymkhana. John took the bow and Hog Island Boatworks publicist/visual media specialist Mark Peter stepped in the stern. Including food and drinks, their gear and the non-diminutive Bruun, we had a full boat!
A fascinating fact about the Hog Island LTD 16 is that the pivot axis of the boat lies magically right beneath the oars.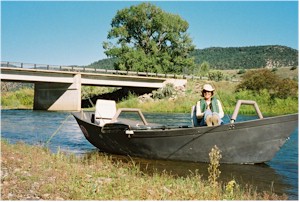 While the operator seat is adjustable to accommodate most rowers, the oar locks stay put. This translates into easy rowing and instantaneous maneuverability.
"She only draws five inches at the oar locks," John shouted back to me as he realized I was trying to ground his brand new water baby on the first shallow gravel bar. We skimmed over it nicely, ready for future migration downstream.
I continued to be pleasantly surprised at how easily I could yank the roto molded boat in and out of heavy water, slide over shallows and slam on the brakes to hesitate and investigate tiny pockets.
Within sight of the South Park (Hog Island) Bridge, I stepped to the bow to make a few casts. Without even using the through-the-hull-anchored aluminum casting yoke, I was comfortably balanced standing. I tested John's rowing balance by standing heavily on one leg and then the other, something that often upsets the rowing angle on most drift boats. John didn't appear to notice my shenanigans. I also could fish comfortably forward while sitting down in the big plush 360-degree rotating chairs. This is a real plus to boaters who may be hauling older anglers.
For more information contact Hog Island Boatworks, 1712 13th St., Steamboat Springs, Colo., 80487 (www.hogislandboatworks.com), (970) 870-1660 or contact Hog Island Boatworks via email at info@hogislandboatworks.com