08/11/01
By John Phillips

I recently talked with avid angler Bill Plantan of Rochester, Minn., who had asked himself a couple of years ago why he should continue to drive his boat by 75 percent of some of the best fishing waters in the nation just because he couldn't launch his boat in those waters.

The canoe can easily facilitate two anglers.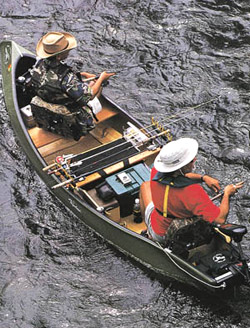 Today, Plantan uses a canoe he's designed to fish streams and rivers that few other anglers ever fish and guides clients to trout, smallmouth bass and muskie in parts of Minnesota, Iowa and Wisconsin. His canoes enable Plantan's clients to fish in areas most boat fishermen and wade fishermen can't reach.
These canoes came about because Plantan said to himself, "I think I can build a better canoe than I can buy. When you fish in a river by yourself, you must deal with both the current and the wind, a combination that can keep you from maneuvering the canoe into your selected fishing spot. Often the canoe will helicopter around in a circle."
Plantan decided he needed a shorter, more maneuverable canoe that offered much less wind resistance than the standard canoe did. Instead of concentrating all the weight of the angler, the trolling motor and the battery in the rear of the canoe, Plantan moved the battery to the front of the boat to more evenly distribute the weight.
Solar charger and rod holder are just a few options available.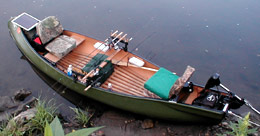 Plantan also didn't like the squared-off backs designed for trolling motors on many canoes.
"I always had much more trouble maneuvering a square-backed canoe in the wind and heavy current than I did a more traditional canoe," Plantan explained. "I felt that a better fishing canoe should have a square steer plate and a full keel like a standard canoe.
"I wanted my canoe to feel as comfortable as a bass boat. I made a bench-type seat that could support a swivel seat similar to that of a bass boat. I also put drink holders in the canoe to hold my soft drinks."
Squared-off backs for trolling motors.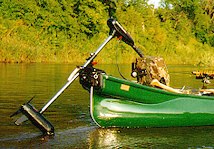 Plantan also mounted his tackle boxes in the interior of his canoe to keep his tackle handy and built a device to hang up his scissors, his forceps and his pliers in an out-of-the-way place. Plantan also built rod holders that kept the fishing rods out of the way.
Plantan knew the importance of the angler having protection from the sun and the rain. He found a wide umbrella that would keep him dry and cool while he fished and mounted it on a fiberglass pole that wouldn't act as a lightning rod. The height of the umbrella allowed Plantan to cast from underneath it.
As Plantan has developed the ideas for his canoe, the demand for his custom canoes has grown.
"Our company designs every canoe that we build especially for one customer. We don't build the canoe until a customer gives us an order and tells us what features and accessories he wants in his canoe.
The canoe is currently available with the following interior colors: Med Brown, Hunter Bronze, Buckskin Tan and Custom Camo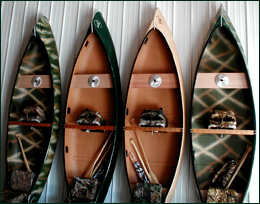 "One of our Florida clients designed a floor rack to keep his feet and equipment dry when rain water filled the bottom of the canoe. We also developed a bilge pump to drain the water out of the bottom of the canoe."
When one customer started using his canoe to duck hunt, Plantan developed a blind to fit on the canoe.
"Instead of making a 15- or a 16-foot canoe, we've built these customized water-fowling canoes that weigh only 85 pounds each just 12-feet long. These canoes won't sink because we've built flotation into the hull."