History of Buffalo Bill Reservoir
The history of Buffalo Bill Reservoir and "Cody Country" is rooted in the rich lore of the old West. Buffalo Bill State Park was named for Colonel William F. "Buffalo Bill" Cody, famous as a wild west showman, promoter and developer. He first came to the region in the 1870's as a guide for a survey expedition and spent the next 20 years guiding and sponsoring hunting parties in the area.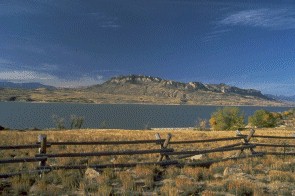 "Buffalo Bill" Cody was influential in bringing irrigation and agricultural development into the area and founded the town that bears his name. Some of the land now occupied by Buffalo Bill State Park was originally owned by Colonel Cody and was acquired from him by the federal government to implement the reservoir project. Work began on the dam in 1905. When completed in 1910 it was the highest dam in the world at 325 feet. Buffalo Bill State Park was established in 1957 and provided recreational areas and facilities along the original shoreline. In 1993 an eight year project was completed which raised the crest of the dam 25 feet and increased the reservoir storage capacity. The enlarged reservoir inundated the former recreation areas which required the removal of the old park facilities. Buffalo Bill State Park has been redeveloped as part of the project.
Mountains dominate the scenery at Buffalo Bill State Park. Shoshone Canyon, the location of the dam, is framed by Rattlesnake Mountain to the north and Cedar Mountain (also known as Spirit Mountain) to the south. Further west, along the north shoreline, lies Logan Mountain.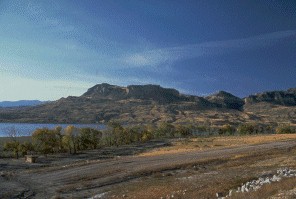 The north and south forks of the Shoshone River are divided by Sheep Mountain while prominent on the southern skyline is Carter Mountain. All are part of the Rocky Mountain Absaroka (Ab-Sor'-ka) Range. Elevations vary from approximately 5,400 feet in the state park to over 10,000 feet in the Absarokas. The northern sector of Wyoming is world famous for its outdoor recreation resources. Yellowstone National Park, the world's first national park, was established in 1872 and annually hosts over 3 million visitors who come to enjoy the park's fishing, camping, wildlife, geothermal features, and other natural wonders. Grand Teton National Park, located just south of Yellowstone, is well known for its spectacular mountain range and associated outdoor recreation opportunities. Other resources in the region include Shoshone National Forest, Bridger-Teton National Forest, the Shoshone and Big Horn rivers, and Big Horn Canyon National Recreation Area. These resources, together with Buffalo Bill State Park, offer unparalleled recreational and cultural opportunities.
There are two developed campgrounds at Buffalo Bill State Park.
NORTH SHORE BAY CAMPGROUND (35 sites: 32 pull through sites and 3 designated tent sites) is located approx. 9 miles west of Cody on US Highway 14-16-20 North Fork Highway.
NORTH FORK CAMPGROUND (62 SITES: 56 pull through sites and 3 designated tent sites) is located approx. 14 miles west of Cody on (North Fork Highway).
Campsites have pull-through parking (except designated tent sites), table and grills. Hookups are not available but water hydrants and restrooms are convenient to all sites. Roads and parking areas are paved.
Campsites are available on a "first come, first served" only. Reservations cannot be made.
TROUT CREEK GROUP CAMPING AREA is located within North Fork Campground. This area provides a large shelter with tables and grill, an area for tents, and enough parking space for a group of trailers, RV's etc. The group camping area is available on a reserved use basis only. The shelter use fee of $35. plus the $35. damage deposit are required in addition to the park entrance and camping fees.
Please Contact: Cody Country Chamber of Commerce
P.O. Box 2777 Cody, WY 82414 Phone (307)587-2297
Motorized vehicles shall be operated only on roads, trails or areas designated for such use. A valid operator's license is required.
All visitors must abide by posted speed limits.
Leaving any vehicle or other personal property unattended for longer than 24 hours is prohibited.
Camping is permitted for a maximum of 14 consecutive days during any 30 day period. Sites cannot be reserved.
Quiet shall be maintained in all areas used for camping between the hours of 10 p.m. and 6 a.m.
Areas designated as "day use only" must be vacated by 10 p.m.
Pets must be kept on a leash.
All trash shall be deposited in containers designated for that purpose. Please use recycle containers where available. In areas without containers you are required to pack out your own trash.
Fires are permitted only in fireplaces or grills as provided and must be completely extinguished before leaving.
The discharge of firearms and fireworks is prohibited.
Fishing and boating are permitted subject to regulations prescribed by the Wyoming Game & Fish Commission. Fishing from within 20 yards of any boat ramp and/or dock is prohibited.

TROUT CREEK NATURE TRAIL is located near the group camping area in the North Fork Campground. This trail provides a 1/4 mile walk through riparian habitat on the west side of Trout Creek along the Shoshone River.

EAGLE POINT TRAIL is located in the Eagle Point Day Use Area approx. 10 miles west of Cody off the North Fork Highway. This trail is the first phase of a planned trail system along the north shoreline.

Both of these trails are handicapped accessible.

Group Facilities: Sheep Mountain Day Use Area is located adjacent to North Fork Campground on the south side of the Shoshone River. This area can be reserved for group picnics and activities.

Included are a large shelter with tables and grill, playground equipment, horseshoe pits, volleyball court, basket ball goal, and softball field.

Water hydrant and restroom are convenient to shelter. A daily fee of $35. is required plus a $35. refundable damage deposit. Park entrance fees are also required. This area can be used by small groups, when it is not reserved, with payment of entrance fee.

Other Things To Do

Fishing
Boating
Camping
Picnicking
Relaxing
SightSeeing
Photography
Wildlife viewing
Windsurfing
Walking/Hiking
Bicycling

Facts, Figures and Important Phone Numbers

Facts, Figures and Important Phone Numbers

| | |
| --- | --- |
| Main Number | (307)587-9227 |
| Fax Number | (307)587-4990 |
| Closest Town | Cody |
| Hookups | N/A |
| # of Camping Sites | 9 tent only, 88 tent/trailer |
| Trailer Dump Station | Yes (2) |
| # of Sandy Beaches | N/A |
| # of Group Picnic Shelters | 3 |
| # of Covered Shelters | 9 |
| # of Picnic Areas | 9 |
| Playgrounds | 2 |
| # of Restrooms | 16 |
| Public Telephone | Yes |
| Trails | Yes |
| Boat Ramp/Dock | Yes(3) |
| Visitor Center, Museum, Gift Shop | and Buffalo Bill Dam Visitor Center |
| Marina | N/A |
| Lodge | Yes, day use only. No overnight camping |

Other Important Information and Phone Numbers

Did you Know?.....At the maximum reservoir elevation of 5,395 feet approximately 8,500 surface acres are covered by water. About 3,500 land acres surround 40 miles of shoreline.

| | |
| --- | --- |
| North Shore Bay Entrance Station | (307)527-6274 |
| North Fork Campground Entrance Station | (307)527-6057 |
| Buffalo Bill Dam Visitor Center | (307)527-6076 |
| Chamber of Commerce | (307)587-2297 |
| Emergency | 911 |
| County Sheriff | (307)527-8700 |
| Game & Fish Dept. | (307)527-7125 |
| Forest Service(Wapiti) | (307)527-6921 |
| Bureau or Reclamation | (307)527-6256 |
| Buffalo Bill Historical Center | (307)587-4771 |
| Yellowstone National Park | (307)344-7381 |