Montana's Rock Creek is located in the Lolo National Forest. Lolo is known for its terrain ranging from the gentle to the rugged, where you'll find snow-peaked mountains, vast wilderness, sheer, granite cliffs and canyons but most importantly cold trout waters. The river flows northwesterly through a magnificent canyon with mountain ranges rising up on either side.
"Rock Creek", riffles, fast runs and huge rocks.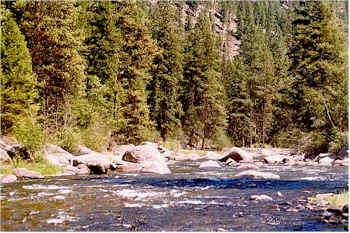 The drive into the canyon is a slow one. The road is narrow and runs along Rock Creek's meandering waters. These waters with shallow riffles, fast runs, undercut banks, isolated channels, vegetation mats, deadfall structures, boulders the size of cars and holding pools. As you continue the drive, you'll notice the setting doesn't change very much. The first few miles you may see four or five anglers fishing this stretch. Most of them will be first timers on Rock Creek. The others, probably fly fishing junkies getting their fix prior to a day's work. For nearly thirty miles it's the same. One must simply chose where you want to start fishing.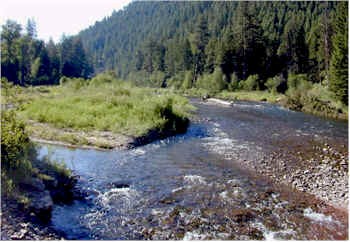 Fishing Rock Creek is ideal for the avid fisherman, both novices and experts. It's a place that challenges "fly fishing" skills and where you can implement new techniques. The fish are smart and they utilize the river's obstacles quite affectively. Sometimes landing them becomes and adventure in itself. Doug Pericos from Rock Creek Mercantile Fly Shop swears it's the slipperiest river he's ever been on. With that said, it's advisable to wear waders or shoes with felt or cleat soles. Rock Creek is best known for it's consistency at providing fishermen with steady action throughout the season and it is wadeable most of the season. The river supports an amazing number of trout and an even more amazing number of trout fishermen. For the local Missoulians, it is a favorite Blue-Ribbon stream, since it is only twenty two miles east of Missoula. The fish populations are reasonably high with many fish in the 13" to 18" range with a few lurking bruts.
Nothing but grins when you land one this size.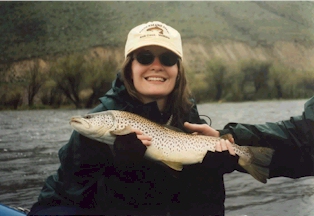 The river has good, solid hatches of mayfly and caddis throughout the year, and excellent dry fly fishing after runoff. To catch the bigger trout, educated fishermen match the hatches with the smaller flies( fish with nymphs, emergers, and wet flies; or try innovative patterns). Rock Creek is busiest in June and early July as anglers chase the salmonfly hatch. This however is not the best time to fish Rock Creek. Many guides state that the best fishing is autumn when the big browns move from Clark Fork into Rock Creek to spawn.
Species: Rainbow, Cutthroat, Brown, Bull Trout, White Fish
Hatches: Caddis, Stoneflies, Leadwing Olive, Gray Drake, Brown Drake, Green Drake, Pale Morning Duns
Tackle & Gear: For most fishing on the Rock Creek an eight to nine foot, four or five-weight rod is a good choice.
Season: Rock Creek (near Clinton) from its mouth to the confluence of the East and West forks, Open third Saturday in May through November 30. Exceptions below follows
3 brown trout, none over 12 inches.
Catch-and-release for cutthroat and rainbow trout.
Artificial lures only, except anglers 12 years of age and younger may use bait.
Extended season for whitefish and catch-and-release for trout open December 1 to third Saturday in May with aquatic insects, maggots, and/or artificial lures only.
Closed to fishing from boats July 1 through November 30.
Note: Whirling disease has been found in Rock Creek and has affected some rainbow trout. The extent of damage is still undetermined. Please contacted Montana Fish and Game for more information.