BLACKFEET INDIAN RESERVATION, Mont. - A two-foot-long shadow drifts like a ghost toward the tiny egg imitation that floats at the end of Rachel Schmidt's delicate tippet. Ever so gently, the shadow sucks the imitation in.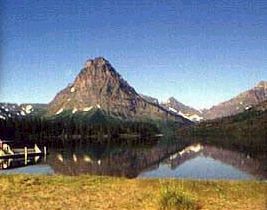 Schmidt raises her rod tip and sets her fragile hook, and another giant rainbow trout erupts at the end of her line.
This is Duck Lake, on the Blackfeet Indian Reservation near Glacier National Park, and this scene is getting to be routine. All morning, Schmidt and her companions catch and release big trout. The smallest of them weighs about four pounds, the largest are pushing 10. These are deep-bodied fish, obviously well fed, and now in their vivid spring spawning colors.
Duck Lake is known for the size of its fish; eight pounds on average. Occasionally, anglers take a 15-pound brown or rainbow here, and on a typical good day it's not unusual to hook a 10- or 12-pounder. What makes this place especially out of the ordinary is that this is not just catch-and-release. This lake is catch-and-keep, if you choose to keep the fish.
Schmidt and the others are here to demonstrate why the lake is becoming better and better known outside of Montana; why this tribally managed fishery draws anglers from across the United States and lures them down from Canada as well.
It is one of the first few days of May, and ice is beginning to break up here just a few miles south of the U.S.-Canadian border. Thirty or 40 feet of cold, green water separate the rocky shore on this part of the lake from the edge of the remaining ice and, in this open strip, schools of giant trout patrol like submarines along a coast. Schmidt and her companions, Alex VandeVoort and Holly Endersby, cast to individual fish.
The Blackfeet Reservation runs south from the Canadian border along the Rocky Mountain Front, covering some 1.5 million acres. Dave Parsons, a professional outfitter and member of the Blackfeet Tribe, says it contains about 1,500 miles of rivers and about 20 lakes with fish in them. Duck Lake is the largest, at 1,850 acres.
Schmidt and VandeVoort are guides with Glacier Anglers, headquartered at West Glacier, on the opposite side of the Continental Divide. Only members of the Blackfeet Tribe can guide on reservation waters, so VandeVoort and Schmidt fish here just for fun whenever they get the chance.
One hooked fish makes a run for the edge of the ice, seeking to hide beneath its frozen mass and threatening to break the leader if it's allowed to come in contact with the edge. Schmidt whips her rod down to one side from 12 o'clock, laying it parallel to the water at three o'clock, still keeping it tightly bent. Eventually the fish slows down, and she is able to coax it out from under the ice.
Parsons wades into the lake alongside Schmidt, and extends a landing net to corral the tired fish.
The tribe has managed Duck Lake for fish like this since the 1950s, Parsons says. What makes it different from other lakes on the reservation?
"Nothing, really," he said. "It's just a lot more popular. Duck is bigger than other lakes, so it's a lot better known.
"But there are a lot of lakes here that are good."
He should know. He has been guiding here for 17 years, and has had his tribal outfitter's license for 15 years, doing business as Cut Bank Creek Outfitters and Summit Station Lodge. Now he employs eight or nine fishing guides, all members of the Blackfeet Tribe.
Ira Newbreast is director of the Blackfeet Fish and Wildlife Department, the tribal agency that manages reservation waters. The trout in Duck Lake are hatchery fish, he said.
"The lake has been stocked since the early 1900s," Newbreast said. "It still is stocked. It's managed as a 'put-grow-and-take' lake, because trout cannot spawn in there."
Rainbow trout require an inlet or outlet stream in which to spawn, and neither is available at Duck. That apparently is what the fish are searching for in spring, when groups cruise along the shoreline like pods of killer whales.
The tribe stocks 80,000 to 120,000 trout in the lake each year. They go in at 4 to 8 inches, Newbreast said, depending on how long they're held at the hatchery. The U.S. Fish and Wildlife Service produces them for the tribe at Creston, near Kalispell.
"They're predominantly rainbow," Newbreast said. "We stock a few predatory fish - browns - but we do prefer our native fish, the 'bows, if we can get them."
The browns are stocked to keep the sucker numbers down, and that has worked quite well.
Rainbows remain in their quasi-spawning behavior from ice-out until about mid-June, Newbreast said, during which they stick close to shore looking for nonexistent inlets and outlets. After that, they move into deeper water, and anglers must follow.
Besides rainbows and browns, the tribe stocks west slope cutthroat trout, and also bull trout when it can get them. The bull trout in Duck Lake may be retained, excluded from restrictions under the federal Endangered Species Act because they were surplus to a scientific study, Newbreast said. The cutthroats, browns and bull trout all provide good fall fishing, he said.
If these are ordinary hatchery fish, what makes them get so large?
"It's the food," Newbreast said. "There's just a huge amount of food production in those (reservation) lakes."
The rainbow in Duck feed heavily on leeches and freshwater shrimp. So a brown or black maribou leech works well for fly fishermen, he said. But this lake is not for fly fishing only.
"It's a 'put-grow-and-take' lake," Newbreast said."You're restricted from using live fish for bait, but you can use worms and grubs and grasshoppers and things like that.
"But, they're really fickle fish," he said. "You really have to be a fisherman to get into them. If you don't know how to fish, you can suffer a skunk."
*In order to fish the Blackfeet Indian Reservation, an angler must buy a tribal license. Cost to non-members of the tribe is $60 per year, and includes a boat-authorization sticker and float-tube-authorization sticker. A one-day license costs $25. A float-tube sticker is an additional $20, and a boat sticker an additional $20.
Rewritten with permission from the Tacoma News