It is generally believed that the Shoshone and Bannock Indians lived for hundreds of years in what is now called the states of Wyoming, Utah, Nevada, and Idaho. The introduction of the horse in the 1700's enabled some of them to travel great distances to pursue game and feed their families.
Sketch from the Official Report of the Stanbury Expedition (1849)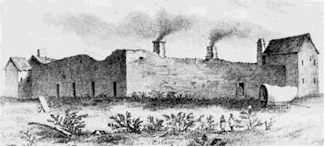 The first white men to explore the west were the trappers and explorers. Sacajawea, a Lemhi Shoshone woman, led Lewis and Clark through the west to the Pacific Ocean.
In 1867 a Presidential Executive Order established the 1.8 million acre Reservation and was confirmed by the Fort Bridger Treaty of 1868. Later a survey error reduced the size of the Reservation to 1.2 million acres and other encroachments reduced the Reservation to its present size of just over a half of million acres.
Ruts of the historic Oregon Trial lead past the obscure monument of the original Fort Hall, which was founded in 1834 by Nathaniel Wyeth.
Fort Hall first served as a fur trading post.
The British flag flew over Fort Hall briefly when it was purchased by an English company, until a treaty placed it and the rest of the Oregon Country in United States territory.
Years later Fort Hall became an important supply and rest stop for the seemingly eternal flow of settlers to the going west. Today roughly 3500 Shoshone Bannocks live on the Fort Hall Reservation.
Today the Tribes operate as a sovereign government which provides many services to Tribal members and non-Indians with revenues from agriculture, business enterprises, tourism, and other operations.
The Oregon Trail and Old Fort Hall Site offer visitors a unique experience while visiting Blackfoot, Fort Hall or Pocatello Long hidden out of view by buffalo grass, the original site of the Old Fort Hall on the Oregon Trail is now open for viewing. Visitors can view the site in the Fort Hall "bottoms" near the bank of the Snake River, or they can contact Tribal Historic Trails Manager "Red" Perry to get an escorted tour of the many Oregon Trail sites around Fort and Pocatello. Perry, a lifelong resident of the area and son of a trapper, brings the sites to life and regales visitors with stories of trappers, pioneers, Native Americans and their history. For more information, contact Robert "Red" Perry at 238-0097 or call the Chamber of Commerce at 233- 1525
---