Woods Canyon Lake is located top of the Moggollon Rim of White Mountains in Arizona. The scenic 53-arce lake is surrounded by Ponderosa Pine, Douglas Fir and Oak, The lake offers trout fishing, and small boat rentals. An Interpretative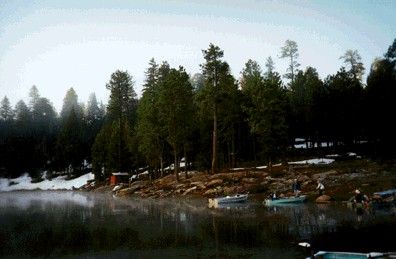 nature trail is located on the north end of the lake. There is a general store and plenty of campgrounds. No swimming allowed in the lake at the request of the Arizona Game and Fish Department. A boat launch area for small boats such as canoes and boats with electric motors. Arizona G&F regularly stocks the lake during peak season.

Camping: The campgrounds surrounding the lake are:
Aspen Campground 
(Reservation and First Come first serve)
Spillway Campground 
(Reservation ONLY)
Mollogon Campground 
(First Come First Serve)
Crook Campground 
(First Come First Served)
Rim Campground 
(First Come First Served)
There are also "open" (no fee) campgrounds off the "300" road (on road numbers 9350 and 195). The store carries maps of these areas. These are areas which have some improvements (some may have water and or toilet facilities, etc). They are free and a little further away from civilization.

Getting There: Woods Canyon Lake, approximately 5 miles north of State Highway 260 on Forest Road 300. Forest Road 300 is located directly across from the Rim Visitor Information Station or 25 miles west of Heber, Arizona.