Free-flowing current in the Red River makes Lake Texoma one of the few lakes in Texas with a self-sustaining population of striped bass, and one of only eight inland freshwater reservoirs worldwide where this species has spawned. A cousin of the white bass, striped bass were first stocked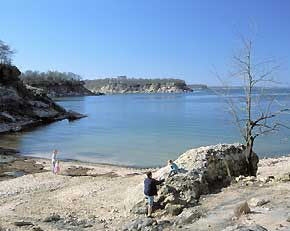 in Lake Texoma by the Oklahoma Department of Wildlife Conservation in 1965. They began spawning in 1974.
FISHING COVER/STRUCTURE
While Texoma has little aquatic vegetation, it does offer cover in structures such as rocks/boulders, standing timber, submerged stump beds, channels, rocky bluffs, sandy flats, and rip-rap along Denison Dam and elsewhere. Of the 580 miles of shoreline, there are approximately 9 miles of rip-rap, 50 miles of standing timber, and 50 miles of submersed aquatic vegetation. The remainder is cut banks, sandy beaches, rocky shoreline, and bluffs. A shoreline development ratio of 13.88 indicates an irregular and branched shoreline, which also increases habitat for fish.
ACCESS/CAMPING
Fishing access, campgrounds, and other facilities can be found at Eisenhower State Park, five other public parks, and a number of private marinas and resorts.
MAPS
Available from local chambers of commerce, the Lake Texoma Association, and most North Texas fishing tackle stores
Location: A Red River impoundment on the Texas-Oklahoma border northwest of Sherman-Denison, west of US 75
Size: 89,000 acres
Maximum Depth: 100 feet
Date Impounded: 1944
Normal Water Clarity: Moderate to clear
Water Level Fluctuation: 5 to 8 feet annually
Conservation Pool Elevation: 619 ft. msl
Current Water Levels
Aquatic Vegetation: Not abundant, but there are some stands of water willow, American lotus, floating heart, and bushy pondweed