Lake Bastrop is a high-quality bass lake. It has been heavily stocked with Florida largemouth bass. The TPWD statewide annual tournament survey in 1997 ranked this lake second only to Fayette County, using quality indicators like average weight and bass caught per hour. However, it is not noted for producing trophy size bass. Channel, blue, and flathead catfish have also been stocked. Channel catfish are abundant, with best angling in the spring and early summer before the vegetation interferes with bottom fishing. A low-density crappie population is present.
FISHING COVER/STRUCTURE
Lake Bastrop is a classic structure fishing lake. Well-defined creek channels, humps and drop offs provide structure. Anglers should use electronics to locate these features. Large stands of submerged aquatic vegetation provide cover. A limited amount of standing timber is available in the back of some coves. Because Bastrop is a power cooling reservoir, water temperatures are warmer than those found on some other lakes, keeping bass active during the winter and early spring. The water can become extremely hot during the summer, which may have a negative effect on fishing success.
Tips & Tactics
Largemouth bass anglers can be successful year-round at Bastrop, but the most productive period is between February and June. A lipless crankbait can be very effective in the spring, allowing anglers to quickly cover weedy flats. Good colors include chrome/blue, red and orange. Another extremely effective artificial bait is a Carolina-rigged centipede (french fry) or lizard. Fish this rig near submerged vegetation on drop offs, points, or along the dam. A suspending jerk-bait, such as a Rogue or Thunderstick, also works well in the spring. Topwater baits like chuggers, prop baits and buzz baits can produce early and late in the day, or on cloudy days when fished in shallow water or over vegetation. Topwaters are normally effective when the water temperature exceeds 60 degrees. In summer, heavy rubber-haired jigs (3/4-1 oz.) with crawfish trailers are effective pitched in matted vegetation. Texas rigged craw worms and plastic worms can also be used. Anglers should peg a 1/2-3/4 ounce sinker against the head of the bait and rig it Texas style. Generally these heavy jigs, craws and worms are fished almost vertically near the deepest edge of the matted vegetation. Other high percentage areas when fishing the "grass" during the summer months include creek channel edges, ditches, drains and irregularities in the weedline. Along the outside edge of the vegetation Texas rigged plastic worms and Carolina rigs work well. Watermelon, tequila sunrise and june bug are popular plastic worm colors.

Channel and blue catfish can be caught using stinkbait or cutbait, whereas flathead catfish prefer live bait. Look for concentrations of catfish in the abundant creek channels and the power plant discharge canal.
Location: In Bastrop County, near the town of Bastrop
Size: 906 acres
Maximum Depth: 60 feet
Date Impounded: 1964
Normal Water Clarity: Clear to slightly stained
Water Level Fluctuation: Rarely more than 1-2 feet
Aquatic Vegetation: Hydrilla, milfoil, chara, pondweed species, coontail, and eel grass.
---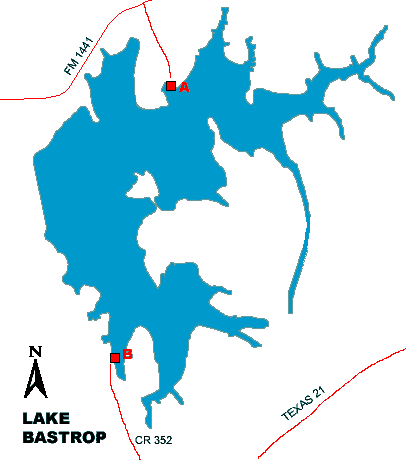 From Austin take Highway 71 east to Bastrop. Take Highway 95 north and turn right on FM 1441, drive 2.5 miles to the park entrance and turn right.
One-lane concrete ramp
Entrance fee required
Open all year
Operated by Lower Colorado River Authority (512) 303-7666
From Austin take Hwy 71 east to Bastrop and turn left onto Hwy 95. Go approximately half mile, then take a right onto Hwy 21 East. Go 2 miles and turn left onto South Shore Road (CR 352). South Shore is on the right.
One-lane concrete ramp
Entrance fee required
Open all year
Operated by Lower Colorado River Authority (512) 303-7666