FISHING LAKES IN UTAH'S COTTONWOOD CANYONS
Location: Utah
---



Salt Lake City–If you live along the Wasatch Front, especially in Salt Lake County, you may already know about the hiking trails in Big and Little Cottonwood canyons. The wildflower-lined trails provide a perfect way to beat the heat and escape the busy life of the city.

But did you know that the lakes you pass while hiking are full of fish?

They are, and they provide anglers who are willing to hike a close-to-home fishing opportunity in one of the most picturesque settings in the state.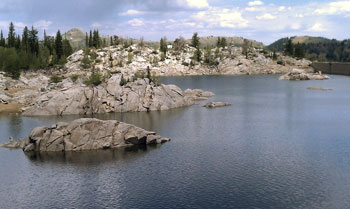 Before you head into the canyons to fish or hike, please remember that both Big and Little Cottonwood canyons supply Salt Lake Valley residents with drinking water. You can't take domestic animals (dogs, cats and horses) into the canyons. Swimming is also prohibited, but fishing is allowed. Rafts or float tubes can be packed in and used for fishing. You must wear waders if you p lan to enter the water.

As far as catching fish, you don't need to worry about taking live bait into these high-mountain lakes (although worms can be effective).

The most effective technique is to simply bring a small assortment of dark-colored artificial flies (sizes 18 or smaller) and a clear plastic bubble. Simply tie the small fly pattern onto your line about three to four feet behind the clear bubble, and cast it out. A very slow retrieve will keep the fly close to the surface. This is a very effective way to catch trout at these lakes.

The plastic bubble can be filled with water, but don't do that — the bubble needs to be light so it and the fly can float on the surface of the water. "If you need some extra weight on your line so you can cast it farther," says Scott Root, "you can add a sinker or two several inches above the bubble. Don't place the sinkers between the bubble and the fly, though. If you add them between the fly and the bubble, the fly will sink."

Scott Root, a conservation outreach manager for the Division of Wildlife Resources, says the daily trout limit at the lakes is four trout. "Also," Root says, "please stay up-to-date on any fire restrictions in the area before you cook these tasty trout in the canyons."

Remember to bring plenty of water, sunscreen and bug spray. A global positioning system (GPS) or map is helpful, but the trails are well marked, and other hikers can give you directions. Finally, don't litter. Make sure you pack out what you packed in!

Root provides information about each lake in the canyons and how to reach it:

Silver Lake

At the top of Big Cottonwood Canyon, near Brighton Ski Resort, lies Silver Lake—the most popular lake in the canyons. A few yards from the parking area, you'll find a small visitor center and picnic tables surrounded by pine trees and other facilities, including restrooms.

A well-built boardwalk system allows you to walk above the wet meadow areas between the parking area and the lake.

Root says the area provides a scenic view of Silver Lake and the surrounding mountain landscape. "During the warmer months," he says, "we regularly stock Silver Lake with brook trout and rainbow trout. The wheelchair-accessible fishing pier along the boardwalk allows anglers to cast into the deepest part of the lake."

The lake is a popular attraction for anglers and hikers, so don't expect to be alone on the pier. If you're looking for some solitude, though, it's available in the canyons—you just have to hike a little farther to reach it.

Florence, Blanche and Lillian lakes

About 4.4 miles from the mouth of Big Cottonwood Canyon, you'll find the Mill B trailhead. The trailhead is at the 'S curve' in the canyon.

Hiking the trail from the trailhead will take you to three lakes that have brook trout in them. Florence Lake, Blanche Lake and Lillian Lake are adjacent to one another on the trail. The lakes are about three miles, one way, from the trailhead. Expect the hike to take about two hours.

"An artificial fly—small and dark—is the most tempting offering for the hungry trout at these lakes," Root says.

Lake Mary, Lake Catherine and the Twin Lakes

Lake Mary, Lake Catherine and the Twin Lakes are located between Big and Little Cottonwood canyons. Each lake offers excellent fishing.

Root says you can access the lakes from trailheads in both canyons. "Though most hikers enter from Big Cottonwood at Silver Lake, or the Brighton Ski Resort parking lot, trailheads are also found in the Albion Basin area of Little Cottonwood Canyon," he says.

The Albion Basin has limited parking. When it's full, an attendant or signage at the information booth along state Route 210 will direct you to another parking location.

Friends of Alta also provide a free shuttle service that's available during peak usage times. The shuttle takes people to and from the trailheads in the Albion Basin.

Lake Mary is about 0.75 miles from the Brighton Ski Resort parking area and trailhead. From Little Cottonwood Canyon, the trailhead begins near the Sunnyside parking area at the Catherine Pass trailhead, which is up a gravel road about 1.5 to 2 miles from the summer information booth. The hike from the Catherine Pass trailhead to Lake Catherine and Lake Mary is about 1.5–2 miles.

Once you reach Catherine Pass, you'll see Lake Catherine directly below you. It's just a short hike to reach the lake's shoreline. Lake Mary is about 0.5 miles from Lake Catherine on a well-marked trail. Lake Catherine is home to many hungry brook trout—you can often see them sipping insects from the surface.

Surprisingly, some large lake trout also live in Lake Mary. "In addition to the brook trout in the lake," he says, "there are a few sizeable lake trout hiding in its deep waters. We've found some of these big trout during gillnet surveys. These trout are smart, though, and trying to catch one can be frustrating. Use lures, and try different techniques to get one of these older, wiser fish to strike."

You can access the Twin Lakes from the Big Cottonwood Canyon area using a trailhead found along the boardwalk at Silver Lake. You can also use the trailhead located in the Brighton Ski Resort parking lot. It's a 1.25-mile hike, one way, and a little more than 700 feet of elevation is gained from the trailheads.

The Little Cottonwood Canyon trailhead is located at the summer information booth (near the end of the pavement on Route 210 in Alta). The Twins Lakes are about 1.75 miles, one-way, from the trailhead.

The Twin Lakes have a good population of Bonneville cutthroat trout.

White Pine, Red Pine and Upper Red Pine lakes

Three other fishable lakes in Little Cottonwood Canyon include White Pine Lake, Red Pine Lake and Upper Red Pine Lake.

The trailhead to these lakes is about 5.5 miles from the mouth of the canyon. The hike, which is considered a moderate hike, is about 2.5–3 hours each way.

Bonneville cutthroat trout are found in all three lakes.

Wildlife

Two of the most well-liked wildlife attractions for hikers and anglers in this area are the occasional Shiras moose and the many mountain bird species found along the trails.

"Please give all wildlife plenty of space," Root says. "Use a telephoto lens to keep a safe distance."

For more information, call the DWR's Central Region office at 801-491-5678.


News Source: Utah DWR - Aug. 27, 2012




«Back | News Home