34 Pound Rainbow Pulled From American Falls Reservoir
Location: Idaho
---



(Update) Mark Adams of Pocatello caught a record breaking trout in the American Falls Reservoir on Monday, July 25.

Idaho Fish and Game completed genetic and age analysis on the fish. The record fish is a rainbow-cutthroat trout hybrid – a female cutthroat trout mated with a male rainbow trout.

The 6-year-old fish weighed 34.75 pounds, and measured 41 1/8 inches long with a girth of 27 1/8 inches. It was caught on a 10-pound test line with a jig.

34 Pound Rainbow Pulled From American Falls Reservoir

AMERICAN FALLS, Idaho,In the midst of a 15-minute, man-against-fish fight, Pocatello angler Mark Adams knew he had a lunker on the line.

The rainbow trout Adams eventually pulled from the depths of American Falls Reservoir on the Snake River actually exceeded expectations.

It weighed in at 34.74 pounds, according to the Idaho Department of Fish and Game.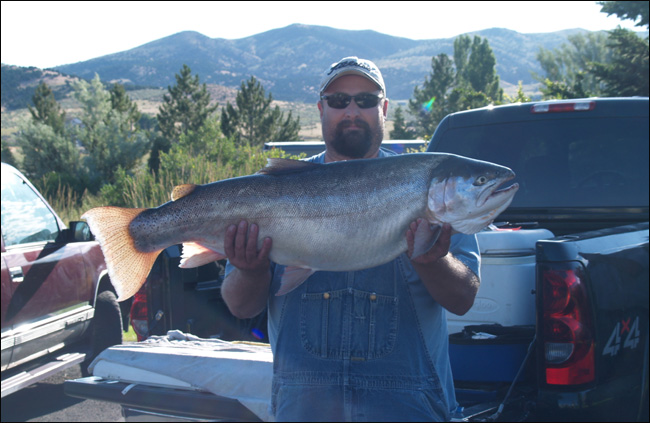 Adams said his fishing buddies thought it was a carp when they first pulled it into the boat.

Regional Fisheries Biologist David Teuscher told the Idaho State-Journal that he was stunned by the sight of the fish, which he's now checking against records from other states in the continental United States.

"We pretty much crushed the record," Teuscher told KBOI-TV.

Teuscher says everybody was just standing around the trout during the weighing with their jaws open. The fish was just over 41 inches long.

The previous record, Teuscher said, was 20.02 pounds.

The biologist says American Falls Reservoir is a perfect location for big fish to grow.

"It's so huge that a fish can swim around in it for 10 years without being touched by an angler," Teuscher said.


News Source: Idaho F&G - Jul. 27, 2011




«Back | News Home