Budweiser ShareLunker: Amistad, Richland-Chambers, Waco, Fork
Location: Texas
---
ATHENS, Texas Three lakes produced Budweiser ShareLunkers March 9: Lakes Amistad, Richland-Chambers and Waco. Lake Fork sent its first fish of the season to Athens March 10.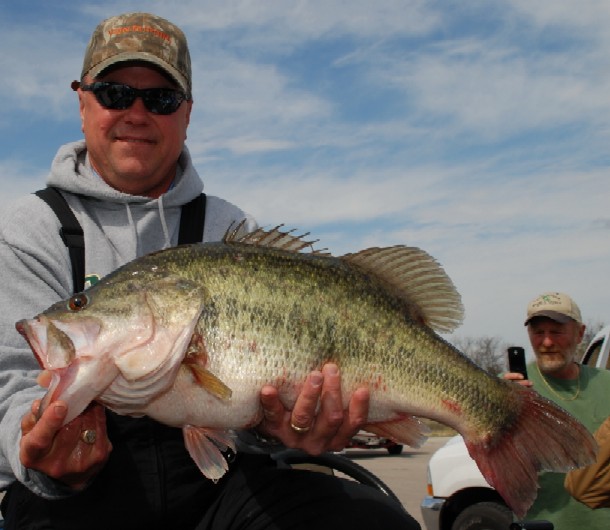 The Lake Waco fish was the first ShareLunker from that lake and the heaviest largemouth bass reported from there. Caught by Ricky Culverhouse of Waco while fishing in a Robinson Bass Club tournament, the fish weighed 13.87 pounds, and measured 25.5 inches long and 21.5 inches in girth.
Since 1971, TPWD has stocked 400,000 largemouth bass and 543,496 Florida largemouth bass into Lake Waco. The previous Lake Waco record largemouth bass weighed 12.89 pounds and was caught in 1996.
Culverhouse caught the fish on a black-and-red flake Baby Brushhog in about six feet of water. He had cast to the same area half a dozen times before he felt a tick on the line and set the hook. "She took off like a bull," he said. "I told my partner, "I don't know what kind of fish I have, but itýs a FISH." When I got her in she came to the top and rolled, and then I knew it was a bass."
While dealing with that fish, ShareLunker program manager David Campbell got a call from Chris McEntyre of Devine, who had landed a 13.39-pounder from Lake Amistad. McEntyre's fish was 26 inches long and 20 inches in girth. A truck was dispatched from the A.E. Wood Fish Hatchery in San Marcos to pick up that fish. Catch details are not available at this time.
Campbell's phone rang again a short time later. Jeremy Bruton of Blooming Grove had landed a 13.05-pounder from Richland-Chambers Reservoir. The fish was 25.25 inches long and 22 inches in girth. Bruton was using a Stanley Wedge spinner bait in three to four feet of water. He was fishing in a Richland-Chambers Bass Club tournament.
Bruton's fish was the fourth Budweiser ShareLunker entry from Richland-Chambers. TPWD has stocked 3,992,469 Florida largemouth bass fingerlings in the lake since 1988.
Monday evening Cal Lamb of Forney pulled a 13.02-pounder from Lake Fork, the 237th Budweiser ShareLunker from that lake. Lamb was fishing about 8 feet deep among stumps when the fish took his jig. The fish was 25 inches long and 21 inches in girth.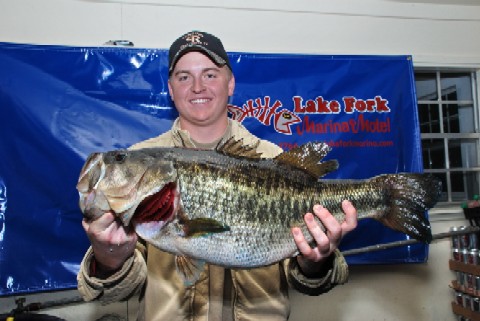 Anyone legally catching a 13-pound or larger largemouth bass from Texas waters, public or private, between Oct. 1 and April 30 may loan or donate the fish to Texas Parks and Wildlife Department for use in a selective breeding program. To enter a fish, page program manager David Campbell at (888) 784-0600 and call him at (903) 681-0550. Keep trying until you speak to Campbell personally. Fish will be picked up anywhere in Texas.

The Budweiser ShareLunker program is made possible through support from Anheuser-Busch, Inc. Since 1991, Anheuser-Busch, in partnership with the Texas Parks and Wildlife Foundation, has contributed millions of dollars in funding to support conservation causes and fishing, hunting and outdoor recreation programs in Texas.


News Source: Texas PWD - Mar. 18, 2008




«Back | News Home