Paulina Lake is located within the caldera of Newberry Volcano, about 25 miles south of Bend, Oregon. The Newberry Crater (Caldera) encircles the basins of Paulina and East lake and it is nearly 5 miles (8 km) in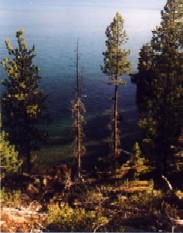 diameter. This collapsed crater or caldera (caldera in italics) is the result of more than 500,000 years of volcanic activity. Neither lake receives water from an inlet stream. Both lakes rely on rain, snowmelt, and hot springs for water. Although these lakes are twins and share much in common, they are not at all identical.

Paulina Lake, the larger twin, is the deepest at 250 feet (76 m). Paulina Creek drains this lake and has chiseled a narrow gorge through the caldera's west wall creating a remarkable twin waterfall. Thermal vents and hot springs along the lake's northeast edge help create a highly productive ecosystem. The lake fed by snowmelt, hot springs, and groundwater flows from East Lake. The outlet stream from the lake is Paulina Creek that flows westward into the Little Deschutes River. The lake covers an area of 1531 acres. The average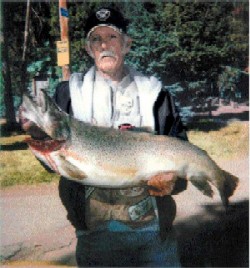 depth of the lake is 163 feet with a maximum depth of 250 feet.
In 2002 in new state record for a brown trout was caught by Ron Lane of Olancha, California, The fish weighted 28 pounds and 5 ounces and was caught on a A.C. Plug. The state record kokanee, a 4 pound 2 ounce fish captured in 1989, is also from Paulina Lake.
Fishing techniques in the Newberry Crater revolve around four "fishing seasons": ice-out, spring, summer, and fall. These "seasons" will affect one's trolling speed, leader length, depth, presentation, and location. Ice-out is the time to pursue big browns by trolling big plugs. Anglers should try different depths and various parts of lake. In the spring, kokanee schools are scattered in 24 to 100 feet of water. Trolling with bait and jigging are the most popular techniques for catching kokanee this time of year. Still fishing, trolling or casting close to the shoreline are the best bets for the early season. Anglers should concentrate their efforts close to the bank and within 35 feet of the surface for the rainbows and browns. Casting lures from shore in early spring and in the fall is an effective method for catching large brown trout and rainbows. Change the speed of the retrieve often, as a stop-and-go technique is very enticing to large fish. Brown Rooster Tails with a gold blade are good for catching browns. Black Rooster Tails, with a silver blade, are good for rainbows.