The Alsea River is approximately 55 miles long and and enters the Pacific Ocean at Waldport. Most people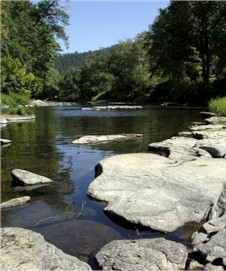 fish for fall chinook salmon and winter steelhead. Additionally, searun cutthroat can be caught in August and September. Numerous boat ramps allow good access to the river. Bank anglers need to be aware that most of the river's banks are in private ownership.

Driving Directions:The Alsea River is paralleled for much of its length by State Hwy 34. Hwy 101 also crosses the river at Waldport.

Campgrounds: There are several campgrounds on the river including Blackberry (FS) with 34 sites, Riveredge Group Campground (FS), and Alsea Falls (BLM) with 16 sites. Two more campgrounds are located on the beach along Hwy 101 south of Waldport. These are Beachside State Park with 84 sites and Tillicum Beach Campground (FS) with 60 sites. All of these campgrounds have running water and Beachside State Park has showers.

Hayden Bridge: Spanning the Alsea River only two miles west of Alsea, the Hayden Bridge is one of the oldest in the state. The span was either partially or totally rebuilt in 1945. Its portals, once rounded in design, have been enlarged to a more modern design to facilitate larger loads.