The Brazos River is a tributary of the Chama River and lies between 7,500 and 10,700 feet near the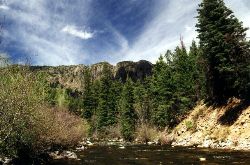 Colorado border southeast of Chama, New Mexico. The Brazos fishes best in the months of May to July and September to October. Hatches mainly include Caddis flies and Stoneflies with patterns including Humpys, Elk Hair Caddis, Stimulators and Woolly Buggers.

Directions: Take Hwy 64 north from Espanola past Tierra Amarilla, at Hwy 162 take right until you reach County Road 512 and take a left.