Hungry Horse Dam is located in the high Rocky Mountains on the South Fork of the Flathead River, 15 miles south of the west entrance to Glacier National Park and 20 miles northeast of Kalispell, Montana. The is nearly 35 miles long and 3 1/2 miles across at its broadest. In places, the reservoir is 500 feet deep, and it holds more than 3.5 million acre-feet of water. Available fish species are cutthroat trout, bull trout, and whitefish. The surrounding mountains are popular big game hunting areas and several of the small tributaries have their headwaters in nearby alpine lakes. The area is managed by the Flathead National Forest.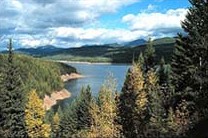 Seasons: The reservoir is open year round to fishing, however weather pretty much dictates the season to be May through November. Fishing for bull trout is closed. An angler cannot take or intentionally fish for bull trout. The westslope cutthroat trout limit is 3 fish.
Access: Forest Roads #38 and #895 are your access points. Road #895 takes you along the Westside of the reservoir and passes you over the 564' Hungry Horse Dam. The first 11 miles to the Lid Creek Campground are paved. Road #38 takes you along the eastside of the reservoir and is the primary route if you intend to travel to the upper end of the reservoir near Spotted Bear. Note: there is no gas and limited services (3 guest ranches) at Spotted Bear. There are 10 boat ramps along the reservoir. Abbot Bay, on the eastside, is the longest that will get you on the water when the reservoir is down to 130'. Lost Johnny Point is the longest (73') on the west side.
Camping:Fourteen campgrounds as well as dispersed recreation sites surround the reservoir. Information can be obtained by calling the Hungry Horse District office (406) 387-3800.
*Hungry Horse was named when two draft horses used for logging the area wandered off during the severe winter of 1900. The horses, Tex and Jerry, were found a month later, all scraggly and hungry.
Directions: Take U.S. 2 about 20 miles northeast of Kalispell.

Recreational Opportunities
Boating
Camping
Fishing
Hiking
Picnic
Water Sports
Wildlife Viewing