The Boulder River originates in the rugged, high elevations of the Beartooth Mountains in the Gallatin National Forest. It tumbles down 7,300 feet and 60 miles through mixed conifers, deciduous trees, shrubs, grassland, and agricultural land, to join the Yellowstone River. Most of its drainage lies within the Absaroka-Beartooth Wilderness.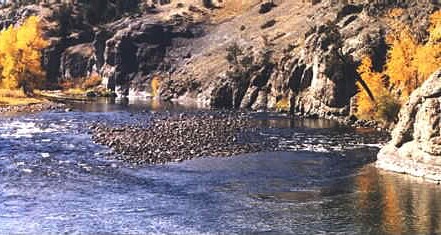 The upper main Boulder cuts through a glacial valley from the headwaters to Two-Mile Bridge, flowing clear, cold and fast. This 22.5-mile segment combines rapids, riffles, plunges, long, wide pools, and short stretches of spawning and rearing habitat in a spectacular sub-alpine setting. As the river runs north 6.5 miles to Natural Bridge and Falls, its gradient lessens, resulting in clean gravels, riffles, runs, and deep pools.
Below the Falls, for 4 to 5 miles, the Boulder meanders through agricultural land to its confluence with the East Boulder. Its final 28 miles from this point to the mouth are somewhat steeper and strewn with boulders and cobbles. The main Boulder, East and West Boulder rivers and their many tributaries provide a wide diversity of fisheries habitats and recreation opportunities, and sustain an agricultural economy. The system is part of the habitat required by fish from the Yellowstone River. It is subject to extreme runoffs, droughts, wildfire, mass wasting of soils and rock, and the impacts of agriculture, land development, and channelization. Upper portions of the main Boulder River are designated "Scenic" and have been considered for "Wild and Scenic" Classification.
Exceptions to Standard Regulations: Entire River And Tributaries Open entire year. Combined Trout: 2 daily and in possession, only 1 over 13 inches.
Natural Bridge To Two-Mile Bridge (First Crossing, 5 Road Miles Upstream From Natural Bridge) Catch-and-release for rainbow trout, except anglers 14 years of age and younger may take 1 rainbow trout daily and in possession, any size. Artificial lures only.

Access: Big Rock Fishing Access Area is located on the Boulder River at river mile 5 on the right hand side as you float down stream. Big Rock is the only access site along the Boulder River maintained by FWP. The Boulder River is a tributary of the Yellowstone River.

Directions
I-90 exit 470 and drive into Big Timber 1.4 miles on Old Bridger Rd. Turn south and continue 3.5 miles. (Lat 45.793, Lng -109.964)