About: -
Lake Pomme de Terre is located in Hickory and Polk Counties and an hour from Bennett Springs State Park. It is easily accessible from Hwy 65 which runs north and south and Hwy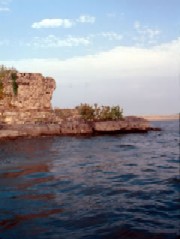 54 which runs east and west.
The 8,000 acre lake is horseshoe shaped, with the dam being in the middle. Mile markers are located on each arm, P identifying the Pomme Arm and L to identify the Lindley Arm.
The Lindley Arm is approximately 12-13 miles long and the Pomme arm is about 16-16.5 miles long.
The lake has several areas to fish standing timber as well as submerged timber several banks with sand, pea gravel and chuck rock as well as deep bluffs. There are also man-made fish attractors placed strategically throughout the lake that are marked with green signs located on the banks.
Anglers have the opportunity to catch bass, walleye, catfish, crappie and muskie.