Ririe Reservoir, located on Willow Creek in Bonneville County, was created in 1975, by the Bureau of Reclamation as a flood control project. Since irrigation drawdowns are not reducing summer pool levels, as in many other Idaho reservoirs, the result is a stable fishery with easy access throughout the fishing season. Whether you are interested in a casual afternoon of bank fishing, or a full day of boat fishing, Ririe offers a variety of fishing opportunities only five miles east of Idaho Falls.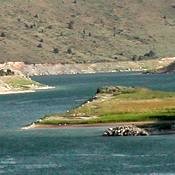 The fishing season on Ririe is somewhat different than other lakes and reservoirs in Idaho. Most are open year-round; however, fishing on Ririe begins the end of May and closes the end of November, (check your regulation pamphlet for specific dates). This is done to reduce impact to the several thousand elk which use the adjacent Tex Creek Wildlife Management Area as their winter range. Without such a closure, disturbances to the elk would likely push them toward adjacent agricultural lands.
Six different species of game fish are available to anglers in the reservoir. The most abundant species are rainbow trout, smallmouth bass, kokanee salmon, and yellow perch, in that order. Brown trout and cutthroat trout are also present in smaller numbers. Rainbow trout and smallmouth bass have been the most popular fish with anglers in recent years. However, kokanee salmon and yellow perch can also provide some good fishing for those who take the time to seek them out.
The angler who tailors his or her techniques to the kind of fish they wish to catch will be most successful. Here are some fishing tips which will help improve your fishing success on Ririe Reservoir.
Rainbow Trout:
Ririe's most popular game fish can be caught by shore and boat anglers alike. Bank anglers find success using nightcrawlers, canned corn and salmon eggs as bait. You might try adding a marshmallow which will float the bait off the bottom and put it into the fishes view. Also casting spinners such as rooster tail, mepps or panther martins, or small spoons such as a little cleo, or daredevil can be worthwhile.
Since shore access to Ririe is somewhat limited, trolling from boats is a popular method of fishing. Pop gear have proven very successful. A trolling speed which keeps your gear at about 25' feet below the surface is recommended.
Kokanee Salmon:
Since kokanee prefer cool, open water, those fishing from boats will have the most success. Kokanee in Ririe can be found most commonly in the lower two miles of the reservoir, towards the dam. The most popular and successful technique is to troll slowly with the pop gear illustrated above. A slower troll will allow the gear to go deeper, 30 to 60 feet, where the kokanee can be found during the daylight hours, especially in the summer months when water temperature begins to rise. To reach these greater depths you may need to add 1 - 5 ounces of weight to your monofilament line, or use some other weight-delivery system such as a down-rigger or leaded line. A leaded line on an inexpensive, large capacity fly reel is problably the cheapest, most effective method to consistenly reach kokanee. You may wish to try a variety of lures at the end of the flasher set-up, such as a small spoon, wedding ring and baited hook, or simply a glow-hook baited with white corn or a maggot. Because kokanee have very soft mouths, a rubber "snubber" rigged to the gear is recommended. This snubber will act as a shock absorber on the strike, and prevents the hook from tearing out of the mouth, resulting in a lost fish.
Another effective, though less sporty, method is to simply hand line for them using a flourescent-painted heavy sinker above a length of lighter leader with a wedding ring and baited hook or baited glow hook. You may also wish to try a willow or Colorado spinner with a heavy weight attached as an attractor above the baited hook. Heavier line (10 lb +) is used above this rig and simply wound around a notched board. The line is then unwound by hand to the proper depth and jigged by hand. When a fish is hooked, it is simply brought in hand-over-hand and removed from the hook and placed in the cooler. The process then begins again. If you have the fish located and know their depth, this can be an effective method.
Smallmouth Bass:
Unlike the kokanee, the smallmouth do not like open water and will be found where cover from brushy areas, rocky shorelines or rock outcroppings occur. These popular game fish are primarily fish eaters so good lures for them will imitate a small fish or other swimming food items. Jigs, spinner baits, small diving plugs, and spoons can all be used sucessfully for smallmouth. The real secret is to fish around structures or rocky areas mentioned above and move around to new shoreline until you find them.
Yellow Perch:
Yellow perch are also found off rocky shorelines and rocky points and ridges in moderately deep water. They are a schooling fish , so where you catch one, there are likely to be others. Some great fun with rapid success can be had with yellow perch. Perch are not picky eaters and will forage on worms, spinners or small jigs. After you have caught one perch, an effective bait can be to use the eye, or small strips of skin cut from the belly of that fish. These fish have the potential to reproduce rapidly, sometimes to the detriment of all other fishing in the reservoir. So don't be afraid to keep a lot of fish when you are catching them.