Fishing Lake Cascade: Cascade is usually iced over and fishable by mid December. In recent years rainbow trout from ¾ to 5 pounds are the primary target of ice anglers on the lake. Anglers typically ice fish the area in front of the dam and the Crown Point area all the way south into the bay in front of the Blue Heron Campground. However trout can be found virtually any where in the reservoir and many times the best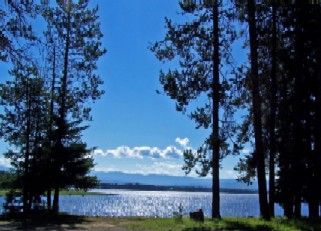 fishing is in areas where there are few other anglers around. The noise of lots of people out on the ice in a given area many times seems to slow fishing down. Many of the areas that can be accessed from the boat ramps can be good fishing.

The typical trout baits again include marshmallows, worms, powerbait, salmon eggs, shrimp or a combination of these baits. Local tackle shops in Cascade can be great sources of information on what baits and areas are producing fish.

Anglers using live baits such as worms can also expect to catch a few yellow perch. However, the yellow perch fishery is still in the restoration phase. IDFG personnel have stocked over 860,000 adult yellow perch in the last 3 years to try to overcome the predation problem of northern pikeminnow (squawfish) consuming all of the juvenile yellow perch. These adult perch will hopefully produce enough young perch to satisfy these predators with enough left over to re-establish this fishery in 3 to 4 years. IDFG personnel have also removed over ¾ of the predatory northern pikeminnow from the reservoir over the last three years with trap nets and rotenone (a fish toxicant) treatments during spring pikeminnow spawning runs up the N.F. Payette River. At this time IDFG encourages anglers to release all perch they catch as these fish are the building blocks to restoring this fishery.
Camping: You will find 300 tent and RV campsites scattered around the reservoir. The campgrounds each feature restroom facilities and domestic water. Other amenities vary.

Group Yurts

: Osprey Point is the secluded, yet accessible, site of our three group yurts. Rent the two that share a common deck to sleep from 16-20. A third yurt nearby adds optional sleeping for 10. A few Tents and RV's can also be accommodated in the camp are. Yurts feature wood stoves for heat, propane lighting, a propane stove for cooking, beds and other furniture. You won't find a better view on the lake!