Williams Fork Reservoir is located three miles south of Parshall Colorado off U.S. Hwy 40. The Reservoir has 1,860 surface acres and 15.8 miles of shoreline.
The reservoir is fed by two major tributaries, the Colorado River system and the Williams Fork River.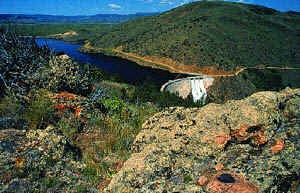 Nestled in a diverse Rocky Mountain setting, this reservoir has proven to be an outstanding coldwater fishery due to the natural forage base and its prime habitat. Various species of trout i.e. Rainbows, Browns, Cutthroat and Mackinaw can all be found prowling these waters. The Kokanee salmon are abundant and anglers in late autumn can usually fill a bag limit. Williams Fork is also an excellent Northern pike fishery. The lake holds a reputation for the state record in Northern pike measuring at 43.5 inches, and weighing in at 30.6 lbs.
Many different species of fish can be harvested at Williams Fork Reservoir because it provides a diverse underwater habitat allowing each species to prosper in it's own choice of environment, therefore resulting in the growth of many healthy fish. Ice fishing is popular and provides anglers an opportunity during the winter months.
---
Recreation Opportunities
Activity
Type
Remarks
Fishing
Cold Water Fishing
Stocked by the Colorado Division of Wildlife. Northern pike 26-34 inches must be returned to water immediately.
Boating
Reservoir
Two boat ramps are available, one at the Eastside campground, and one at Peninsula campground.

Boat Ramp
Elevations

Current water elevations at Williams Fork
The Reservoir is full at elevation 7811'. The boat ramps are unusable for most motorized craft at elevation 7790'.
Camping
Trailer
The majority of camp sites are set-up for trailer or RV camping. The inlet and a few sites on the peninsula are conducive to tent camping.
Picnicking
Day use
Several areas around the reservoir are marked for day use activities. Picnic tables are provided.
Parking
Fisherman Parking
Day Use Areas – Parking for fishing and reservoir access. Parking along south and west sides of reservoir. No overnight parking allowed.
Winter Sport
Ice Fishing
Seasonal activity, seasonal information posted as needed for safety.