About: - Fishing Caballo Lake: Both lake and river provide anglers with the opportunity to catch a variety of fish. The area is home to largemouth bass, walleye, white bass, catfish, crappie, bluegill, northern pike, sunfish, and an occasional rainbow trout.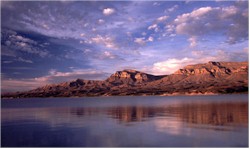 About Caballo Lake State Park: This park's claim to fame are the majestic Bald and Golden Eagles that migrate through. Beginning in late October both Bald and Golden Eagles arrive to nest at Caballo.  Numerous Golden Eagles nest in the nearby Caballo foothills, while Bald Eagles will nest in a large areas around the park, as well as within the park.
Country Cactus: Visitors can stroll among yuccas, century plants, ocotillos, cow tongues, prickly pears, and other desert cacti growing in the park's two cacti gardens. Most of these cactus provide beautiful blooms in late March and early April.
Getting There:Caballo Lake State Park is 16 miles south of Truth or Consequences via I-25 exit 59 and NM 187.
Largemouth Bass
Walleye
White Bass
Catfish
crappie
Bluegill
Northern Pike
Sunfish
Rainbow Trout