A 21/2-hour tour-boat ride, each way, takes you from Wahweap Lodge on the southwest shore of Lake Powell to Rainbow Bridge, less than a quarter of the way up the lake.
You wish it could be longer, because the journey is a remarkably beautiful one among sheer and multicolored sandstone cliffs.
Houseboats ply the long and narrow lake like trucks along an Interstate, while fishing boats and runabouts and - at least for the present - personal watercraft skitter across some of the bluest water north of Baja, Mexico. We pass a fuel barge and an ice truck, pushed by a tug-like vessel, making their way uplake to Dangling Rope Marina, about 40 miles upstream from Wahweap in one of the lake's many remote bays.
Rainbow Bridge, largest natural stone bridge and a Navajo Holy place.
Our destination is billed as the largest natural stone bridge in the world and a Navajo holy place. Several sailings a day leave the lodge, some half-day trips, some full day.
We follow the main channel of the Colorado River up the lake for about two hours, past Castle Rock, Antelope Island and Padre Bay, finally abandoning the channel for Forbidding Canyon, then entering Bridge Canyon to run the last quarter-mile to the site.
The bridge doesn't disappoint - 29 stories high, 275 feet wide, 42 feet thick at its top. Beneath it runs the tiny creek that carved it from the sedimentary rock that forms this desert canyon country. We walk no more than 300 yards along a paved path from our moorage at the head of the canyon to the base of the bridge. Rangers ask us not to walk beneath the bridge because, while it is not a violation of regulations, it is offensive to the American Indians who worship here.
European-Americans, with the help of a Paiute Indian guide, first laid eyes on the bridge only in 1909, and the following year President Taft set aside the site as a national monument. A glance at the surrounding cliffs explains why this took so long to find.
After 45 minutes at the bridge, we return to our boat for the trip downlake.
As impressive as the bridge may be, it is dwarfed by the lake itself. The reservoir, which snuggles amidst a dozen of the Southwest's most dramatic national parks and monuments, is nearly 200 miles long, with almost 2,000 miles of shoreline. Most of it is accessible only by boat or by foot, and some of it not even by foot.
Glen Canyon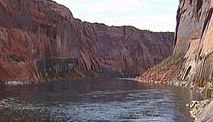 Ninety-six major canyons branch off north and south, providing a lifetime of opportunity for exploring by boat. Boaters who follow the canyons' twists and turns often come to places too narrow for two boats to pass at once, and sheer, rock walls rising hundreds of feet into a cobalt, desert sky. Workers completed Glen Canyon dam, to create Lake Powell, in 1964, but construction was far enough along that the lake actually began to form the year before.
Glen Canyon Dam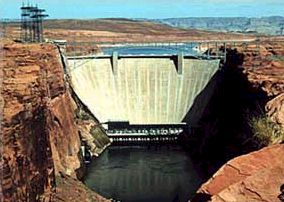 Five rivers enter it, bringing water from snow that melts on the west slope of the Rockies. Where our boat leaves Wahweap Bay to enter the main channel, not far uplake from the dam, the lake is 520 feet deep. It took 17 years to fill. In 1972, the federal government established the Glen Canyon National Recreation Area, which encompasses most of the lake. The National Park Service manages it, and serves about three million visitors a year. About 280,000 of the visitors board one of the 11 tour boats that operate out of Wahweap Lodge to visit Rainbow Bridge.
Houseboating and shoreline camping are two of the most popular activities, and ARAMARK Parks & Resorts, which operates the 350-room lodge and other guest services on the lake, maintains a fleet of 500 rental houseboats, as well as smaller craft. Another 3,000 private houseboats are moored permanently.
The Park Service imposes rules designed to preserve the near-pristine quality of the water. Prime among them is one requiring boat-campers to carry - and use - portable toilets. Rangers often visit lakeside campsites to check for their presence. Eight floating restrooms, which incorporate pump-out stations for houseboats and dump stations for the portables, are moored along the lake.
Many visitors come to Lake Powell primarily to fish. Its waters contain schools of hungry striped bass, a transplant from the Atlantic Ocean which reproduces so efficiently here that managers urge anglers to catch and keep as many as possible. Largemouth and smallmouth bass, channel catfish, walleye and sunfish also present a challenge to fishermen and an opportunity for a shore lunch or a dinner under a desert sky spectacular with stars.
For those who prefer a drier sort of recreation, hiking provides abundant opportunity. Participants can explore individual side canyons, strike out cross-country, or try a 34-mile-long trail from Lonely Dell Ranch at Lees Ferry through the Paria Canyon Primitive Area, coming out of the wilderness at the Paria River between Page and Kanab, Utah.
Other recreational opportunities include golfing, kayaking, water skiing, swimming, and rafting below Glen Canyon Dam.
The first Europeans to explore this area were a pair of young Dominican priests, fathers Dominguez and Escalante. They came through in 1776 on their return to Santa Fe from an unsuccessful effort to find a trail to California. Traveling without guides, they and their party of eight others navigated the maze of canyons, recorded their discoveries in detailed journals and homemade maps, and found a crossing of the Colorado River. They bestowed upon many of the features the names that persist today, including that of the river itself.
It wasn't until 1869 that an American - Maj. John Wesley Powell, a one-armed Civil War veteran widely known today in the American Southwest - explored the Canyon of the Colorado. He named this area Glen Canyon.
His 1,000-mile trip is called the last great exploration within the conterminous United States. For modern water-borne visitors to these canyons, however, the period of exploration is without end.
(Republishing with the permission of TNT, Photos provide by Utah Tourism)