The bass pro stretches the legs on the 6-inch plastic lizard - stretches them and stretches them without the legs breaking.
But can one of the newest baits in the fishing world meet the real test and catch fish on the lake? And how do you use it?
These are questions anglers are asking as the fishing season gets underway in earnest.
Terminator Company, with SnapBack Super Plastics, and Strike King, with 3X Soft Plastics, are the only companies using the new Cyber-Flexx material to make a new plastic lure for bass anglers. R.J. Tackle is using it in a saltwater lure.

"They've been in a lot of magazines and on television," said Brent Hale, 29, a member of the Southaven Bass Club. "People are talking about them."
Pro fishermen have been among the first to test these baits on the water when they were introduced a year ago.
Professional Chad Brauer likes the durability the 3X Soft plastic offers.
"It lets you fish more and not worry as much about constantly fixing your lure," Brauer said. "And obviously the more time you can spend fishing the more chances you are going to have to catch fish."
Skeet Reese won the first B.A.S.S. tournament, the Florida Showdown on Harris Chain of Lakes, while using the Terminator SnapBack junebug 7-inch ribbontail worm. He said special rigging is not required.
"I discovered that Super Plastic is so soft it tends to cave inward on an extra wide gap hook, so it's best to use an ordinary 45-degree, off-set, J-bend hook or regular straight shank hook on thinner-bodied Super Plastics like a worm or lizard," Reese said. "I still like the extra-wide gap hook on thick-bodied baits . . . You can leave the hook point buried just beneath the surface of the lizard or worm, and "skin hook" tubes and creature baits."
Brauer likes the buoyancy, especially in Carolina-rigging, that makes the lure float off the bottom of the lake and look more alive to fish.
The flotation lets you use a larger, heavier hook than normal and use a shorter leader to achieve the desired depth off the bottom behind a Carolina-rig, said Chris Brown of Strike King.
Both of the companies' crawfish baits actually stand up like a crawfish in a defensive position.
"That is what a bass normally sees before he strikes a crawfish," Brown said.
Jason Kilpatrick, a full-time southern Alabama Delta region guide and tournament angler, said the baits will change Carolina and Texas-rigging.
"I know this stuff will float a lizard for sure on a Carolina-rigged 4-0 hook," Kilpatrick said. "Texas-rigged and tossed near a bed, this bait will nose down just like a natural feeding predator on the fish's nest."
Anglers should not let the super elastic plastic lures make direct contact with ordinary plastic worms, according to the companies and professionals. The chemical residues of the Cyber Flexx and ordinary plastic mix and can melt each other.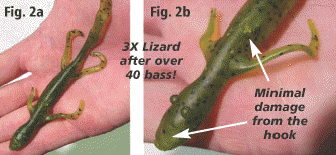 "It is best to keep them in their package and put them in a soft storage tackle system or an old duffel bag," Brauer said. "I've always kept my plastics in a duffel bag anyway."
Like with any other soft plastic it's best not to store in direct sunlight, according to Strike King. Once they get in water and cool off there is usually no problem.
Another consideration is that the baits can't be used with normal dipping dyes. Strike King has its own dye for use with the 3X soft baits and Terminator recommends Cyber-Glo from Spike-It for coloring.
SnapBack is offering six models from soft jerk baits to lizards. The baits come in about half a dozen colors per model. Snapback also includes injected-in pockets for rattles. They are around $4 per bag for five baits.
Strike King has nine models of the 3X soft baits from lizards to finesse worms in 24 colors depend ing on model and packages granule salt within each bag. They come five baits to a bag, except the Zulu, that is four to a bag. They are both $3.49 a bag.
Company officials stress anglers should be willing to try out and adjust to the new baits.