Rebates, special interest rates, special packages, show specials, special options. For the would-be skipper pondering a special investment, boat shows provide one-stop markets for comparing dealers and financing.
However, before facing the rush of incentives that comes at the shopper like the spray off a powerboat's bow, potential buyers should know two things: A boat show is both a great place to buy a boat - and a great place not to buy a boat. It all depends on the shopper's needs and approach and whether the shopper has put enough thought into either. Regardless, it's worth the investment to plunk down the admission fee and take a look.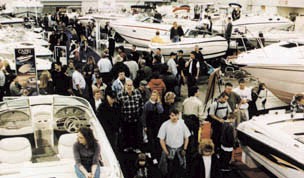 "Everybody is in one place. You travel one time and see it all in one place. You can see the same product, you get to price shop, compare accessories, compare prices or how packages are put together," said Dell Parsons, finance manager of Surf & Turf, a small, family-owned dealership in Selma, N.C.
Opportunities for comparisons and money-saving specials aren't be limited to prices, either.
"A lot of people wait for show time for rebates and extended warranties," said Chris Pope, general manager of Boats Unlimited, a high-end dealer in Durham, who said he encounters a mix of buyers who are either starting their searches at shows or are finishing there. "There they can get more boat for their money. That's another thing that's good at shows. (And) most of my lenders will lower their rates at shows. That's kind of a triple-fold benefit."
Pope emphasized potential savings as the biggest advantage of shopping at a show, even if cautious shoppers have doubts.
"I wish people really did believe that shows really are an opportunity to save money," Pope said. "A lot of people believe it is just some gimmick. ... You can save thousands just on a financing special."
Boat-buying goes far beyond the bottom line, though.
"I urge people to not necessarily buy on the spur of the moment without thinking about what they're going to use it for," said Clyde Owen, president of A.K. McCallum Co. in Fayetteville, N.C. "A lot of times a dealer has a lot more stuff at the store. I'm going to bring five models of boats to the show, and I've got 150 models of boats. Use the boat show as starting point, see what they're interested in, maybe visit the dealership and get the full story."
Because of the countless varieties - johnboats to sailboats to ski boats to cabin-cruisers, deep-sea fishing boats and luxury yachts - trimming the choices is essential.
Some shows targets fishermen, automatically paring the choices. Even then, "there are a lot of boats out there that can do freshwater and saltwater," said Les Gray, vice president of Southeast Productions, a 31-year-old family-owned company that manages several N.C. boat shows. "The main thing is to kind of have an idea in a boat and price range. We've got everything from $500 aluminum johnboats to $100,000 offshore fishing machines."
Veteran boater Gene Midyette said consumers "ought to do their research before they go there."
"I don't think necessarily I'd want to just go on the opinions of the people who are selling," said Midyette, a retired geotechnical engineer. "Use the Internet, whatever is available to you. Just like buying a car - be a smart shopper."
Experienced boaters can be resources, too, said Midyette, who volunteers with U.S. Coast Guard Auxiliary Division 9 Flotilla 9-11.
For Bill Carver, an essential piece of research is the boat's performance on a test cruise, which is available at some in-water shows but not possible at an indoor show.
"If you're going to pay any kind of money for a boat, you want to test it on the water first," said Carver, who serves as commander of the Coast Guard Auxiliary Division 9 Flotilla 93 on Lake Gaston. "... Some boats look pretty on the shelf, but in the water it's a different matter."
Every potential buyer also should pay particular attention to what happens after the sale.
"If I was going to buy, I would inquire very strongly as to the service reputation of the business and know for sure that I was going to be taken care of after the sale," said Neal Meads, part-owner of R&K Marine of Knightdale. "
Boat engines are becoming more sophisticated and require special equipment. It's important to have factory-trained mechanics and technicians."
Once a deal is struck, it's the buyer's turn to provide information. Well-prepared customers are "the ones that know they're going to have to fill out credit applications if they're going to finance. They'll already have questions that they'll want answered," Parsons said.
And don't forget the checkbook.
"To capitalize on savings they can get at a boat show, they need to be prepared to leave a deposit that locks them into a sale," Parsons said.
Then, again, taking the checkbook isn't always the best idea. The biggest disadvantage of shopping at a show is impulse buying, Parsons said. However, she added, "if it's something they want and they're going to buy it anyway, most of the time the savings justify the impulse buy."
A buyer battling an impulse-buying urge does have an escape - leaving to mull boat packages and financing specials overnight. Some shows and dealers even provide next-day passes.
"It's a big decision to make," Owen said.