Chuck Collins learned to tie flies when he was eight years old, developing a love for fishing and tying that has continued for 47 years.
His passion for the sport earned him the title of "Fly Tyer of the Year for the Western Rocky Mountain Council of the Federation of Fly Fishers" for 2001.
He attributes part of his love for tying flies to his mother, who tied commercially when she was pregnant with Chuck.
"I was indoctrinated to fly tying in the womb," he says with a laugh.
Over the past years he has honed his skills and loves the art of tying today for much the same reason he started: it helps him catch fish.
"I like being able to catch fish on flies I have tied," says Collins. "I also think fly tying makes you a better fisherman. It helps you to understand the food chain and that you can't just fish random flies and catch fish.
"There's always a reason a fish takes a fly, and tying and studying bugs helps you understand why."
Along with the excitement
Award-winning fly tyer Chuck Collins works on tying a Royal Humpy in his shop.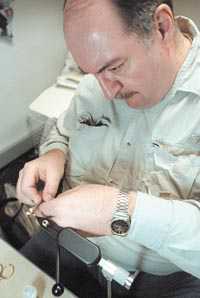 of catching fish comes the enjoyment from the art of tying the flies.
"I also enjoy painting and I make jewelry," says Collins. "Sometimes it takes two or more weeks to finish one of those projects, but if you have 15 minutes you can sit down and create a little work of art by tying a fly."
Over the years the biggest change Collins has seen in fly tying is the materials used and the amount of information available for tyers to learn new techniques. It's also easier for new tyers to get started.
"I remember when you would sit down and take a fly apart backwards to see how it was tied because no one was willing to share their secrets," says Collins. "Fly tyers were a real tight knit group and if you weren't in good with them they wouldn't show you how to do anything."
"Today, we have videotapes and classes taught by some to the best tyers in the country and you can learn to tie anything," he says. "The materials used for tying flies are also a lot better and you can find them.
"There is no reason why people can't learn to tie good flies today in just a few months of practice."
For new tyers or veteran tyers wanting to hone their techniques, Collins gives some advice.
"One of the best things a tyer can do is watch other tyers," he says. "Veteran tyers can learn a lot from watching new tyers — they aren't as hung up on the traditions of doing things one certain way. They are just tying the quickest way they know how and you might just learn some shortcuts."
Royal Humpy or Goofus Bug
Hook size — 8 to 22
Waxed black thread
White calf body hair
Moose body hair
Deer body hair or light elk calf hair
Red floss
Brown hackle
Wrap the hook in black thread. Tie white calf hair on — don't crowd the eye when doing this. Tie moose hair in place for the tail — the tail should be as long as the body of the hook. After tying in the tail, take deer hair and tie it in at the same point as the tail. Tie hair in with the butt ends pointing toward the eye of the hook. Remove unneeded hair. Wrap in red floss from the point of the tail to the back of the wing. Fold over deer hair and tighten behind the wing. Trim excess hair. Tie in hackle and wrap equally on each side of the wing. Tie off with a whip tie at the eye of the hook. Trim wild hairs and cement head.