The Saint Ignatius Mission is located in the center of the Flathead Indian Reservation, just south of Ronan in western Montana.
St. Ignatius Mission.
Once a Roman Catholic Mission, it was founded in 1854 by Fathers DeSmet, Hoecken, and Menestry; all of which were Jesuits. The bricks were made with local clay, the lumber was cut in nearby foothills.

At one time - from 1875 to 1900 - it included a printing press which produced "Narratives from the Holy Scripture in Kalispell," and a "Kalispell Dictionary;" a lumber mill; an agricultural and industrial school for boys; and a boarding school for girls. The cornerstone of the present mission church was laid in 1891.

Today, the mill, press and the schools are long gone - but the church and two smaller historical buildings remains. The church is renowned not for it's history, or beautiful back-setting of scenery behind the St. Ignatius Mission Church, but by the 58 beautiful murals on the walls and ceiling and by who painted them.

There are fifty-eight murals on the ceiling and walls of St Ignatius.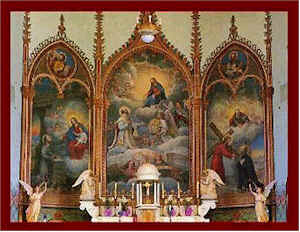 This gifted man was Brother Joseph Carignano (1853-1919), an Italian Jesuit who served the mission as cook and handyman. Although he had no formal training in art, he undertook to paint the church with murals of scenes from the Old and New Testaments, as well as paintings of some of the saints.
When you stand inside the church, it is extremely difficult to believe that this was done by an amateur who painted in what little time he could spare from his primary duties as a cook and a custodian. The words that you will most often see on the visitors register are, "miraculous" and "magnificent".
Salish man named Ki Kishi and his granddaughter.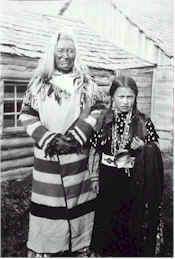 Admission to the Mission and two smaller historical buildings is free. Inside the two smaller building are exhibits of early artifacts, Indian arts and crafts, and other historical items. Donations are accepted.
The Mission is open daily for tourists and for those who wish to worship privately from 9:00am - 8:00pm in the summer. 9:00am - 5:00pm in the winter. Sunday Mass is at 9:30am.
About Father Pierre DeSmet: Also built the original Cataldo Mission on the St. Joe in 1842 in northern Idaho. He also named the town of St. Maries (pronounced Saint Marys) near Lake Coeur d'Alene
About Saint Ignatius:
In 1491, Ignatius of Loyola was born into a noble Basque family in northern Spain. In his youth he was a courtier, a swaggering "caballero," and a soldier in the service of the Spanish king, Ferdinand.
St Ignatius of Loyola.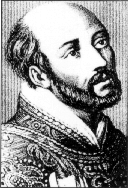 While he was defending the fortress at Pamplona in 1521, his leg was shattered by a cannonball. During a prolonged and painful convalescence Ignatius experienced an interior transformation that changed his whole life. A new desire to serve Jesus replaced his former hopes of knightly glory.
The spring of 1539 found Ignatius and his companions in Rome where they engaged in serious discussions about how they might together serve God in the Church. What emerged was a summary of their decisions, a formula for their future. On September 27, 1540, Pope Paul III approved this formula and the Society of Jesus was born.