Article by Kelton Hatch
INKOM — At 52, Roger Thompson of Inkom, Idaho is thin, athletic and has a lust for fishing. Or maybe it's an obsession.
For the last 24 years, at nearly 100 or more fishing trips a year, Thompson has been honing his skills to a fine art.
As if floating on a feather, the hook at the end of his line, covered in feathers, string, thread and glue, touches down on the water like a ballerina landing from a jump. The water's ripple is nearly undetected as the dry fly lands, then slides across the surface of the water in wait for its quarry.
Roger Thompson fishes near his home along the Portneuf River, south of Inkom, Idaho this summer.
Photo by Kelton Hatch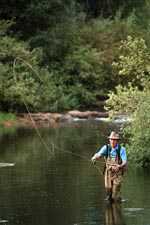 "I love it," says Thompson. "The peace, the quiet, the scenery, and I like fooling the fish. It's neat to take something you have put together and catch a fish — that's a lot of fun."
Thompson got his start fishing on Rapid Creek as a small child when his grandmother taught him how to hook a grasshopper on a hook attached to a small fiberglass fishing pole.
"We would just sit there for hours hooking grasshoppers and catching fish," says Thompson.
In his late 20s, Thompson and his good friend, Jon Buzzard, of Pocatello, decided they wanted to try something different than the grasshopper and spinning rods and took up fly fishing. Little did they know at the time that they would have to drive to Twin Falls to get materials for tying flies.
"There just wasn't a very good selection in town," says Thompson. "Most people ordered their materials back then from a catalog or went someplace else. Fly fishing just hadn't caught on here that much."
They bought most of their materials from Ruel Stayner.
"He was a real character," says Thompson. "He had everything, if he could find it."
Today, Thompson's favorite streamer fly is a Stayner ducktail, one of the flies his early mentor developed and taught him to tie
Like most passions, Thompson tried to pass on his love for fly fishing to his daughter and wife.
"They're not into it like I am, but if the fish are biting they really enjoy it," says Thompson. "About 95 percent of our vacations are fishing trips."
Not only does Thompson spend most of his free time year-round fly fishing, but he does it in his full-time job as manager at All Seasons Angler in Pocatello.
"What better job to have than doing your hobby and getting paid for doing it," says Thompson. "I get to see all the new stuff and get to play with it before everyone else does. It's like Christmas everyday."
Out of all the places Thompson has fished, the Portneuf River ranks No. 1 for close fishing spots. Yellow-stone National Park is his second favorite, but his dream fishing spot is Alaska.
"The Portneuf is close to home," says Thompson. "The variety of fishing is great. You can fish totally still water to the fast moving rapids and it's good with streamers, nymphs or dry flies."
Like most anglers, he has his favorite flies. On any given fishing trip he takes along 50 to 60 different patterns making up over 500 individual flies.
"My favorite fly is what ever the fish are taking," say Thompson. "But I guess my favorite streamer is the Stayner ducktail. It's a traditionally pretty fly and it works. It's also not hard to tie. My favorite nymph would probably have to be the brassy and my favorite dry fly would be the elk hair caddis."
Like other outdoor sports, fly fishing is also increasing in popularity throughout Idaho as well as most of the country.
"Fly fishing's numbers are increasing all the time," says Thompson. "People are intrigued by the mystery and mystique of it. They they really get hooked after they find out how easy it is."