Fly Fishing the rivers and lakes around Island Park is an experience that an angler seldom forgets. The spring fed tributaries, creates an ideal situation for enjoyable and unparalleled fly fishing. Not only will you experience the exceptional fly fishing of this area, but you are surrounded with the beauty of the Targhee National Forest, the wildlife and history of people and the life they lived.
Few people are fortunate enough to see this beautiful setting.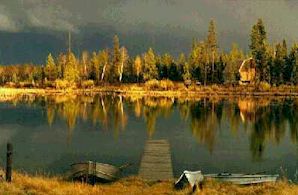 The Henry's Fork of the Snake River runs through Island Park, Idaho, which borders left of the nation's oldest national park "Yellowstone". The Henry's Fork River was a favorite to many famous people like, Jack Hemmingway, President Theodore Roosevelt, William Jennings Bryan and railroad magnate Roland Harriman wrote, "It was a matter of love at first sight."
The Henry's Fork covers a stretch of roughly fifty miles, and it would take weeks to fish all the good locations. The Henry's Fork originates at the outlet of Henrys Lake which in own right is just as famous. Henry's Lake is located south of the Montana border and under the Continental Divide. From the lake's outlet to Big Springs is a major spawning area and closed to fishing. The stretch between Big Springs and Island Park Reservoir is good fishing but not near the quality as below the reservoir.
Autumn fishing on the North Fork, a favorite among seasoned anglers.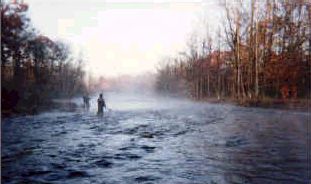 From the dam starts a fifteen mile stretch in which the waters are labeled "Blue Ribbon" and is catch and release only. The river's character changes entering the Box Canyon stretch, as faster waters and rapids come into play. Floating is probably the best method to cover the stretch at least in June and early July. It's also a good idea to sport some felt bottom shoes or cleated shoes as the footing in this area can be very challenging. Because of the tumbling rapids, the fish are more forgiving for the less than perfect presentation. I would characterize this as fish living in the fast lane. It's also a good time to utilize nymphs and streamers. Nymphs consistently produce just as good fishing results as dries, if not better.
Further down, below Last Chance on into the Harriman Ranch, fishing takes on a different meaning and demeanor. The Henry's Fork is wider with pockets and pools and flows much slower. On the top it's flat and it may be a hundred yards before you see a riffle. In this section the fish appear to have the upper hand. They appear at times to hide in grass beds for what seems like hours. It's also tough to match subtle insect hatches on top water in places where tiny dry flies develop.
The calm waters of Henry's Fork below Last Chance, reflecting a magnificent sunset.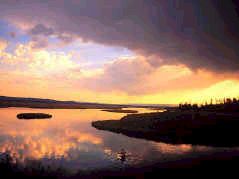 This is probably why Andre Puyans, who runs an exclusive fly fishing school on the river was quoted as saying "Even the dumb fish in here have their Ph.D.s". This stretch of Henry's Fork also brings some huge bruts and it's quite common to catch a fish over twenty inches. Many well experienced anglers recommend using a dry fly as an indicator with a small nymph 16-20 inches below as a dropper. To fish the ranch is at times is fishing blind. But there's not a better feeling than catch a lunker, when your expectations were modest. Most of the stretch you can wade particularly in late summer and fall. Fall is an excellent time to fish the Henry's Fork. Crowds are gone and big fish are feeding steadily for the coming winter. Landing one of these monsters on light tackle is a heart-thumping experience not easily forgotten. If your a fly fisherman, you owe it to yourself to fish the Henry's Fork river at least once in your life.

Species: Rainbow, Cutthroat, Brook

Hatches: Caddis, Stoneflies, Leadwing Olive, Gray Drake, Brown Drake, Green Drake, Pale Morning Duns

Tackle & Gear:

For most fishing on the Henry's Fork an eight to nine foot, four or five-weight rod is a good choice.

Season: Fishing season opens on Memorial Day and closes at the end of November