Are Bear Lake's Ciscos a Joy or Curse?
Article provide by Idaho Fish & Game
Are Ciscos a joy or a curse? These sardine size fish found only in Bear Lake haunt anglers with a curse of their own. The cisco that run in late January and part of February at Bear Lake and so does the curse.
Consider cisco fishing an opportunity to catch a unique fish before the sun comes up. Be there no later than 6 a.m., the good fishing ends once the sun is up. And don't get hooked on the lure of cisco.
Only a curse could make cisco fishing seem reasonably sane. Why brave the subzero cold of Bear Lake to catch these midget fish? One, you're nuts, and two you're really bored or three you need bait to pursue the Lake trout and Bonneville Cutthroat trout of Bear Lake. Or you're cursed.
Some anglers become obsessed with catching cisco for bait so they can catch Bear Lake's 3-7 pound native cutthroat trout and 5-15 pound Lake trout. The curse of the cisco hits them hard. They fish in subzero weather under harsh conditions. Too avoid freezing fingers, ears and other bodily parts they use waterproof gloves, insulated waders and winter headgear. While fishing their eyebrows and mustaches freeze. A grim smile freezes their faces highlighted in ice.
Standing on rocks in hip deep water, his headlight beaming light into the water and cisco net submerged, Mike Neer, of Hiram Utah waits for a school of cisco to swim by to net.
"I just use them (Cisco) for bait for the big fish. I fish October through February. When the cisco come into spawn all the big fish congregate eating them. This is when I get them," said Neer.
Shy and elusive, cisco abandon caution when it come to reproduction. Cisco do sex in the dark and spawn in only a few locations. They school up close to shore for no more than two weeks to complete one of life's compelling journeys. Their curse comes from giant lake trout and big cutthroat trout waiting for their mating ritual to begin. Fish with sex on their minds are easy prey.
The schooling big trout cast an age-old spell on humans. The obsession to catch big fish. This curse takes many forms; sinking fishermen's boats in the icy waters of Bear Lake to dancing under the full moon.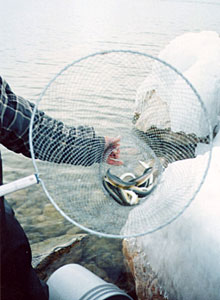 Yes, dancing. The Cisco Disco was done under the full moon last week. Human dancers jauntily clad in fishing attired and rumored to imbibing in spirits took portable CD players to the lakeshore and did the Cisco Jig.
Baloney, you say? Doug Miller of Channel 2 TV in Salt Lake recorded the "Jig" and festivities. I am sure every psycharist and nuero surgeon watching the newscasts beamed at a new crop of patients.
One "dancer" said it was all hype. Everyone was jumping around just trying to keep warm. Right.
Cisco!
Ciscos are a 5-inch to 8-inch long specie of whitefish found only in Bear Lake. They taste like smelt. Never had a smelt? Visualize a 5-6 inch long sardine that is very oily. Ciscos are excellent bait for catching cutthroat trout and lake trout at Bear Lake.
The window of opportunity to catch Cisco is short, only one or two weeks. Most years cisco are caught with a dip net through the ice near shore in the dark of early dawn. Cisco dip netting is usually done with a specialized net with metal mesh. This keeps the net flexible under the typically sub-freezing weather conditions.
This year because of the frequent strong winds and ice-free (open water) conditions, it has been very difficult to fish at Cisco Beach. Large waves crashing onto the shore make it difficult to see Cisco and can freeze anglers. Cisco stay further off shore under these conditions. In recent years large numbers of cisco school off Garden City Marina and dippers scooped limits off the jetty last week.
"It is a unique fishery. Cisco are plankton feeders found only in Bear Lake. Some people like to eat them, others want them for bait," says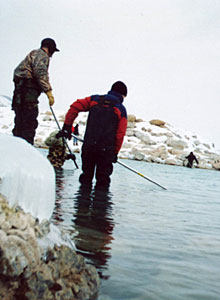 Dick Scully regional fisheries manager for Idaho Fish and Game that co-manages Bear Lake. "Bear Lake can be very dangerous with sudden winds. Anglers need to be careful dip netting and very cautious taking boats out on Bear Lake winter fishing."
Boat Fishing For Ciscos
Anglers with boats can catch cisco during the day by snagging them off the Rock Pile out from Guss Rich's Point located south of Garden City. Cisco snagging is legal in Utah. Snaggers usually use a heavy, shiny jig with treble hooks. The best way to find the Rock Pile at Bear Lake is with a fish finder because it is under 60-70 feet of water, at times there is the cluster of boats anchored over the rock pile fishing for cisco and trout. Boaters need plenty of anchor rope (about 100 feet). When the wind comes up it is hard to stay over the fish. Trout limit at Bear Lake is two. Cutthroat must have a fin-clip as evidenced by a healed-over scar to be kept. Wild (unmarked) cutthroat are protected.
Lake trout and cutthroat anglers use a piece of cisco on a jig and lower it too the bottom. Like cisco lake and cutthroat trout are schooling to feed on the cisco. Lake trout to 10 pounds and cutthroat in the 3-7 pound range are not uncommon. Jigs should be a minimum of 3/8 oz with 1/2 or 3/4 oz jigs commonly in use. Snagging spoons should be similarly large. Line that has very little stretch such as Fireline or Spider wire improved hook setting and stiffer rods help also help.
This is your chance to try ciscoing at Bear Lake. So what are you waiting for, 70-degree weather? The right music to jig to? Or are you afraid of the Curse?