The Museum of Idaho is housed in and Andrew Carnegie endowed building, which was completed in a1916 and added to the National Resister of Historic Places in 1983.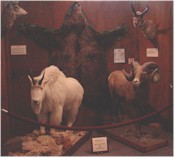 In 2000, native son and philanthropist Gregg Carr purchased the former Masonic Temple and the property to the north for expansion of the Museum of Idaho. That expansion has come to fruition with the beautiful expanded building that has tripled the size of the former museum, now making it the largest museum in the state of Idaho.

Many artifacts, photographs, and artistic interpretations are exhibited that depict the varied perspectives of our history.

Permanent Displays of natural history, early inhabitants and explorers, agriculture, mining, military, and nuclear energy are located on the main floor.

10:00AM to 5:00PM Monday through Friday
1:00PM to 5:00PM Saturday Daily -09:00 - 08:00pm
We are located at Elm Street and Eastern Avenue in Idaho Falls
Our mailing address is: Bonneville County Historical Society, Box 1784, Idaho Falls, ID 83403
Phone 1-208-522-1400.