About: - Little Red River: One of the most popular blue ribbon fishing and floating streams in Arkansas, the lower Little Red River are the tailwaters of Greers Ferry Dam near the town of Heber Springs. The Little Red eventually merges with the White River at the Hurricane Lake Wildlife Management Area just east of Searcy.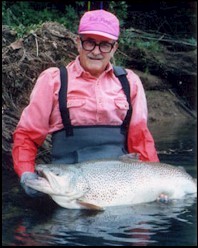 The Ozark scenery is outstanding, and can offset one of those rare occasions when the fish aren't biting. The river is regularly stocked and for the most part fishes well all year round. In the cooler winter months larger browns tend to be more active.

The all-tackle, world record brown (40 pounds, 4 ounces) was caught in May 1992 in the Little Red River below Greers Ferry Lake by H. "Rip" Collins.

Access: The Corps of Engineers public ramp is located the north bank, next to the Federal Fish Hatchery, may be the easiest access to the upper portion of the river. Other public access points on the middle and lower stretches of the river. maintained by the Arkansas Game and Fish Commission, include Barnett (Winkley Bridge), Lobo (adjacent to Lobo Landing Trout Dock, Dripping Springs, and Ramsey. Four commercial boat docks also offer launch ramps.

Please note most of the land bordering the river is privately-owned and is posted.