About: - Nestled in the Ozarks, the Buffalo River originates high in the Boston Mountains and is a tributary of the White River. The river was designated as a National River in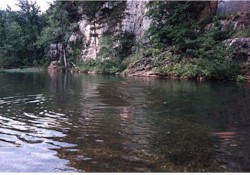 1972. Over its course, the Buffalo drops steadily to its confluence with the White River. The gradient is steep and the water is faster along the upper river, leveling and slowing as the river runs its course. Relatively long, quiet stretches characterize the lower two thirds of the Buffalo.

Fishing the Buffalo
The Buffalo is a favorite with anglers. Long pools provide excellent water for fishing. The Buffalo and its tributaries comprise one of the nation s richest areas in total number of fish species. The biggest attraction here is the smallmouth bass. Anglers also go after largemouth and spotted bass, catfish, goggle-eye (rockbass), and a variety of other panfish.