About: - The 30,000-acre Greers Ferry Lake is known for its clear waters and cliffs that line much of its shoreline. One easily recognizable geologic feature on the lake is Sugar Loaf Mountain, where a national recreational trail by the same name climbs the 1,000-foot summit on an uninhabited island (making it accessible only by boat).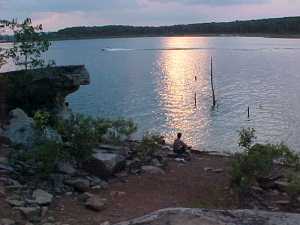 During warmer months, the fog that hovers over the cold water in the Little Red can create a striking effect. And visitors traveling from the south or east will certainly notice a difference as they enter the region's hilly terrain.

Fishing - Unknown, but impressive, is the fact that two world-record fish, the hybrid striped bass and the walleye, were caught on Greers Ferry Lake, which is the reservoir from which the Little Red River flows. (The hybrid striped bass, caught in 1997, weighed in at 27 pounds, 5 ounces, and the walleye, caught in '82, was 22 pounds, 11 ounces.) But walleye and hybrid striped bass aren't the only catches on the fishing menu at Greers Ferry. Every game fish native to the State of Arkansas has been stocked in the clear waters of the lake by the Arkansas Game and Fish Commission, and it is especially revered as an excellent largemouth bass fishery.

Camping - On the lake, there are more than 10 campgrounds, dozens of boat ramps and nine marinas, eight of which offer rental boats.