About: - Fools Hollow offers a great variety of fish and superb camping spots in the tall ponderosa pines. Don't be fooled by the fact that this state park sits inside the city limits of Show Low. It has the total feel of a high country lake.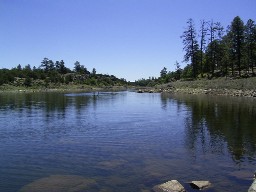 This park has shiny new facilities to go along with a sparkling jewel of a lake that boasts trout, walleye, catfish, sunfish and even smallmouth bass. In fact, this is the only fishery in the White Mountain area with smallmouth bass.

The park has a launch ramp and even fishing piers. Shore angling is very viable. In fact, on a recent visit, the shore anglers seemed to be catching more trout than the boat anglers.

A good fishing strategy is to troll slowly for trout and walleye during the low light hours of early morning or at twilight; then bottom fish during the bright light of day using night crawlers to try for bass, catfish, trout and walleye. Late afternoon is a good time to work small crayfish-looking baits in the shallows along the rocky shelf areas, especially near the dam, for smallmouth and possibly walleye as well.

It's just a fun lake to fish because it offers so much variety. Try it once, and you will return time and again.

149 acres. Elev.6,600 ft. Four miles off Arizona 260 using Old Linden Road and either 32nd or 22nd Street. Campgrounds, parking, lots, and restrooms have been revamped. Plans are in the works for more campsites, a new boat launch, visitor's center, amphitheater, picnic ramadas, and wheelchair-accessible trails and dock. Anglers have been pulling out trout, bass, catfish, bluegill, walleye, and crappie. RV & Campground inquiries can be made at: (520) 537-3680.
Access: Gravel
Boating: 8hp single (or less), Launching area
Amenities: Parking area, restrooms
Winter freeze: yes
Live Bait Fish prohibited
Nearest Town: Show Low - lodging, restaurants, airfield, fuel for planes
Note: Campground nearby.
Rainbow & Brown trout
Largemouth Bass
Smallmouth Bass
Crappie
Sunfish
Catfish
Walleye