About: - Saguaro is the most popular lake on the Salt River is Saguaro Lake. Saguaro is the last of the lakes in in the Salt River system as the river flows toward the Arizona and Southern Canals. Saguaro Lake is 41 miles from downtown Phoenix, is the lake closest to Phoenix. Saguaro is a scenic body of water with towering red and yellow cliff walls. It is managed by a joint effort between four organizations, Salt River Project, Tonto National Forest, Arizona Game and Fish Department, and the Maricopa County Sheriff's Office.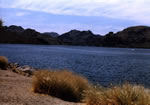 Arizona Game and Fish Department stocks the lake with fish. There generally are good supplies of walleye, largemouth and yellow bass, rainbow and brown trout, bluegills, channel catfish, and crappie in Saguaro.
Saguaro del Norte Recreation site is near the dam and includes the Saguaro Lake Marina, a Maricopa County Sheriff's aid station, picnic tables, restrooms and boat ramps. Butcher Jones Beach, which can be reached by a road a few miles north of Saguaro del Norte, features swimming, picnic and restroom facilities. The area is open daily from 6 a.m. to 8 p.m. from April through September. Bagley Flat Campground (30 spaces) is about four miles from the dam but is accessible only by boat. It is open all year (no fees). To get there, travel up a narrow cliff-bordered portion of the lake. The campground is in a scenic and peaceful area and has sanitation facilities.
LOCATION/DIRECTION:
From Mesa, travel east on US 60 to Bush Highway. Turn left and follow signs to lake. From Phoenix take Shea Blvd. to SR 87, Beeline Highway. Travel 8 miles north to the Saguaro Lake turnoff. From Payson, travel south on SR 87 to Bush Highway. Turn left and follow signs to lake.
RAMP/ACCESS:
Boat ramps at Saguaro Lake Marina. Trout stocked at Marina and Butcher Jones.
PHYSICAL INFORMATION:
Average Acreage - 1100
Average Depth - 90 ft.
Elevation - 1600 ft.
Rainbow trout. Largemouth Bass
Smallmouth Bass
Yellow Bass
Crappie
Sunfish
Catfish (channel )
Walleye
Carp