Chevelon Canyon Lake is one of the finest Brown trout fisheries in the state of Arizona. The lake is located approximately 60 miles from Payson in the apache Sitgreaves National Forest at an elevation of 6400 feet. It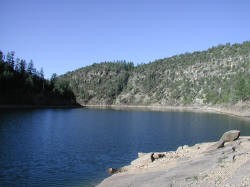 is fairly hard to reach, as there are only two walk-in access points that require about a one mile hike down to the lake. Chevelon offers 6 miles of accessible shoreline for the shore fisherman. Fishing by a float tube is your best bet as hauling a small boat or canoe down the steep access trail can be quite difficult. If you do put a boat on the lake, motors cannot exceed 8 horsepower. Anglers fishing this lake are restricted to the use of artificial lures and flies only.
Fishing here is best suited for the experienced angler. It is not recommend for the beginning or inexperienced fisherman. This location is very remote with no developed campsites and there are no trash receptacles at this lake.
Directions to Chevelon Canyon Lake, Take Highway 260 approximately 30 miles east of Payson to FR300. Follow FR 300 for about 10 miles to FR 169. Travel on FR 169 for 21 miles to FR 169B.
Chevelon Crossing Campgrounds: Chevelon Crossing is a scenic and historic canyon area. Built originally by the Civilian Conservation Corps in the 1930's, the campground is situated along Chevelon Creek. The campground has 7 sites, opened year-round and operated by the National Forest Service.
From the north (Winslow) follow Forest Road 34 to Forest Road 504, campground is located just off FR 504 at Chevelon Creek. From the south take Forest Road 300 to Forest Road 169, follow 169 north to the junction of Forest Road 504, turn right and follow the road to the campground.