North Lake is located in Southern Colorado in the North Fork Wildlife Area just south of the beautiful Cucharas Valley.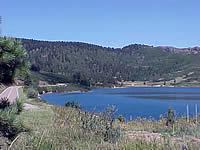 The North Lake consist of 840 acres and is restricted to artificial flies and lures.
ACCESS: Only craft propelled by hand, wind or electric motor, no camping, no fires.


FACILITIES: Rest rooms, boat ramp with parking area

The lake is beside the road while the North Fork Wildlife Area extends westward to the San Isabel National Forest along the North Fork of the Purgatoire River, another place where the fishing is excellent.
Directions: From Trinidad go 35 miles west on Colorado's scenic Highway 12.
---
Blue Lake is a beautiful little lake located at 10,000' elevation. The fishing is excellent and there are several trailheads leading into the Sangre de Cristo mountains nearby.
Directions: At the northern foot of Cuchara Pass on State Highway 12 there is a dirt road leading west for 4 miles to Blue Lake. The campground is a quarter mile up the hill above the lake.
---
Bear Lake is located at 10,500' elevation and has 14 official camp sites.
Directions: Take State Highway 12 south of Cuchara to a sharp turn at the northern foot of Cuchara Pass. Turn onto a well marked dirt road leading west into the National Forest. It's 5 miles to Bear Lake from that turn. There's excellent fishing in the Cuchara River for the first couple of miles going in.