About: - Located in a spectacular alpine setting in Northeastern Oregon, Wallowa Lake is deep and cold. Sitting at an altitude of nearly 4,383 feet, with Chief Joseph Mountain behind it. The glacier-created lake is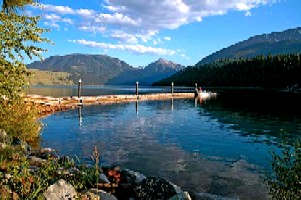 about 1,500 acres in size, averages 160 feet deep, and is nearly 300 feet at its deepest.

Wallowa Lake holds the state record for kokanee with a fish weighing 6 pounds, 12 ounces.

In addition to kokanee, Wallowa Lake has a good rainbow trout fishery and these fish are readily available to anglers May through October. There is also a small population of lake trout, including some up to 30 pounds, but they are seldom caught.
Rainbow Trout
Kokanee Salmon
Mackinaw