About: - Both Lake Alice and Lake Maloya reside in Sugarite Canyon State Park just north of Raton, near the Colorado border. Alice attracts fly-fishing enthusiast, while Maloya is is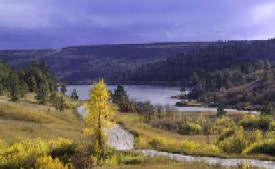 noted for the shore, courtesy boat dock or fishing pier. Only boats with electric trolling motors or sails are permitted.

Sugarite Canyon State Park features heavily wooded mountains and meadows painted with wildflowers and butterflies. Elevations range from 7,000 feet at the park entrance to 8,300 feet atop Little Horse Mesa. Located near the visitor center are the historic remains of the Sugarite coal camp. Sugarite has about 10 miles of trails, with some opened to mountain bike riding and horseback riding. Winter activities include sledding, ice fishing, and cross country skiing.

Directions: At Raton, take I-25 exit 452 to NM 72. Travel east about seven miles to the junction of NM 526. Take the left fork which goes uphill. Continue on to the visitor's center and beyond to access the lakes. Day-use fee area. Call Sugarite Canyon State Park, New Mexico Park and Recreation Division, (505) 445-5607 for details.