Wildhorse Reservoir at maximum capacity covers 2,830 acres, with a maximum depth of 70 feet, an average depth of 40 feet and stores a volume of 73,500 acre feet. It lies on Federal lands administered by the Bureau of Indian Affairs and leased to the Duck Valley Indian Reservation (Sho-Pai). Wildhorse is open to the public, but fees may be charged for overnight camping. A State Park and some private properties surround the reservoir.
Angler use was 21,735 angler days in 2003. It is a coldwater "put-grow-take" stocked trout and wild, warmwater fishery. Game fish species present are rainbow trout, German brown trout, bowcut trout (rainbow x cutthroat hybrid), smallmouth bass, largemouth bass, channel catfish, yellow perch, and white crappie. Average harvest rate for trout (2004) was 1.38 fish per hour and 4.72 fish per angler. Average harvest lengths were 13.8 inches for rainbow,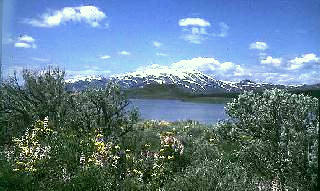 13.6 inches for smallmouth bass, 15.2 inches for brown, and 9.0 inches for the yellow perch. Trout from 3 to 5 pounds and larger are occasionally taken. Bass range from 8-20 inches and channel catfish from 3 to 20 pounds. Yellow perch (9-inch average size) are easily captured and 30 fish per day is common. May through June, mid-September through October and ice fishing from December through February using worms, eggs, corn, Power Bait and lures are best for trout. Fly fishing can be good in the early spring and late fall. Both shore and boat fishing is successful, however, trolling is better in the summer months. Spring and early summer is best for bass and catfish. Crank baits and rubber gear for bass and stink baits and liver for catfish work best. Yellow perch fishing is good all year using jigs and worms. Our Trophy Book shows a 5-pound 5-ounce smallmouth captured in 2001, a 19-pound 3-ounce channel catfish captured in 2002, a 1-pound yellow perch captured in 1999, a 12-pound, 9-ounce brown trout captured in 1986, a 4-pound, 2-ounce cutthroat trout captured in 1994, an 8-pound rainbow trout captured in 1979 and a 10-pound, 4-ounce bowcut captured in 1977.
Stocking – Up to 40,000, 9-inch rainbow trout are scheduled to be stocked into Wildhorse Reservoir. Biologist Prediction for 2005 - Reservoir will be low in 2004. It was only 20% of capacity going into the winter and is expected to fill to only 45% of capacity by June of 2005. By July, boat access will be limited. Spring fishing will be good fishing for trout, yellow perch and smallmouth bass. For yellow perch, your best bet is to fish from a boat, locating schools of perch prior to fishing. Channel catfish angling will be good in the spring, and there's a new 5 fish limit. Good areas to fish for catfish are the Hendricks Arm Inlet and the southwestern shoreline area utilizing nightcrawlers, chicken livers and stink bait. Summer and fall fishing is predicted to be fair to poor.
Camping and Facilities - Wildhorse State Park day use, camping, and boat launch fee area. BLM day use and campground fee area. Sho-Pai campsites and boat launch (fees possible). Lakeside primitive camping available. Facilities include campgrounds, a trailer dump station, boat launch and ranger station. The park is open year-round, but access may be hampered by extreme cold and snow in winter months. The campground has 33 sites each with a table, fire pit, and camp pad. There are no hookups but restrooms are available year round. Showers, centrally located water faucets, and a dump station are available during the summer months. Pull through sites will accommodate large RV's. The picnic area has a nice view of the reservoir and offers some extra day use parking. Each site has a picnic table and fire pit.

The boat ramp provides good access to the reservoir. A small day use beach is located next to the boat ramp. There is a stay limit of 14 days in a 30 day period. Wildhorse Reservoir commonly boasts the state's lowest winter temperatures.

Regulations - Wildhorse Reservoir and its inlet and outlet rivers and streams including Penrod Creek up to the bridge below the Gold Creek Ranger Station in Elko County: Open year around, any hour of the day or night. Limits are 5 trout, unlimited yellow perch, 10 mountain white fish and 15 warmwater game fish of which not more than 1 may be black bass and 1 may be a white bass hybrid (wiper) and 5 may be channel catfish. Minimum size for black bass and white bass hybrids (wiper) is 15 inches) except from March 1 through June 30 when only catch and release fishing is allowed for the black bass. The possession while fishing or use of the fish as bait, whether dead or alive, or parts thereof, except preserved salmon eggs, is prohibited. No boat restrictions.
Access - Travel north from Elko on State Route 225 for 65 miles to the reservoir.