About: - Lake Roberts lies nestled among the high pines in the Upper Mimbres Valley, within the boundaries of the Gila National Forest.
Cold springs forming Sapillo Creek, flows into the canyon from the east.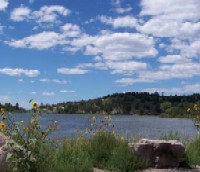 The lake at capacity covers about 69 surface acres, and drains a watershed of about 87 square miles of mostly steep, mountainous country.

Visitors will find three campgrounds located at or near the lake. The Upper End Campground on the southeast side of the lake has 11 campsites. The Mesa Campground, which also borders the lake, has 24 sites.

Among the fish in the lake are trout, bass and catfish.